UPSC conducts the Civil Service Exam every year. The civil Service(P) examination is factual. An aspirant must prepare a strategy for the examination. For candidates who dream of becoming an IAS but don't know how to start their exam preparation from home, this article will help them. This article will discuss how one can prepare for the examination from home without any coaching, etc.
Union Public Service Commission(UPSC) conducts the Civil Service Exam to recruit IAS, IFS, IPS, and other 'A' Grade officers. The candidate who clears the UPSC examination appoints to the most reputed post in the country and provides many facilities with great responsibility. Approximately 10 lakh students apply every year, and about 5 to 6 lakh appear for the examination.
How Aspirants can prepare for Civil Services Exam from Home?
The Civil Services (Preliminary) Examination is more factual. On the other hand, the main examination requires deep analysis and comprehensive evaluation of questions, as answers written by a candidate in the examination represent the candidate's overall personality.
In recent years, the Union Public Service Commission (UPSC) has made comprehensive changes in the pattern of the mains. In light of these changes, a robust strategy is required to score high in mains.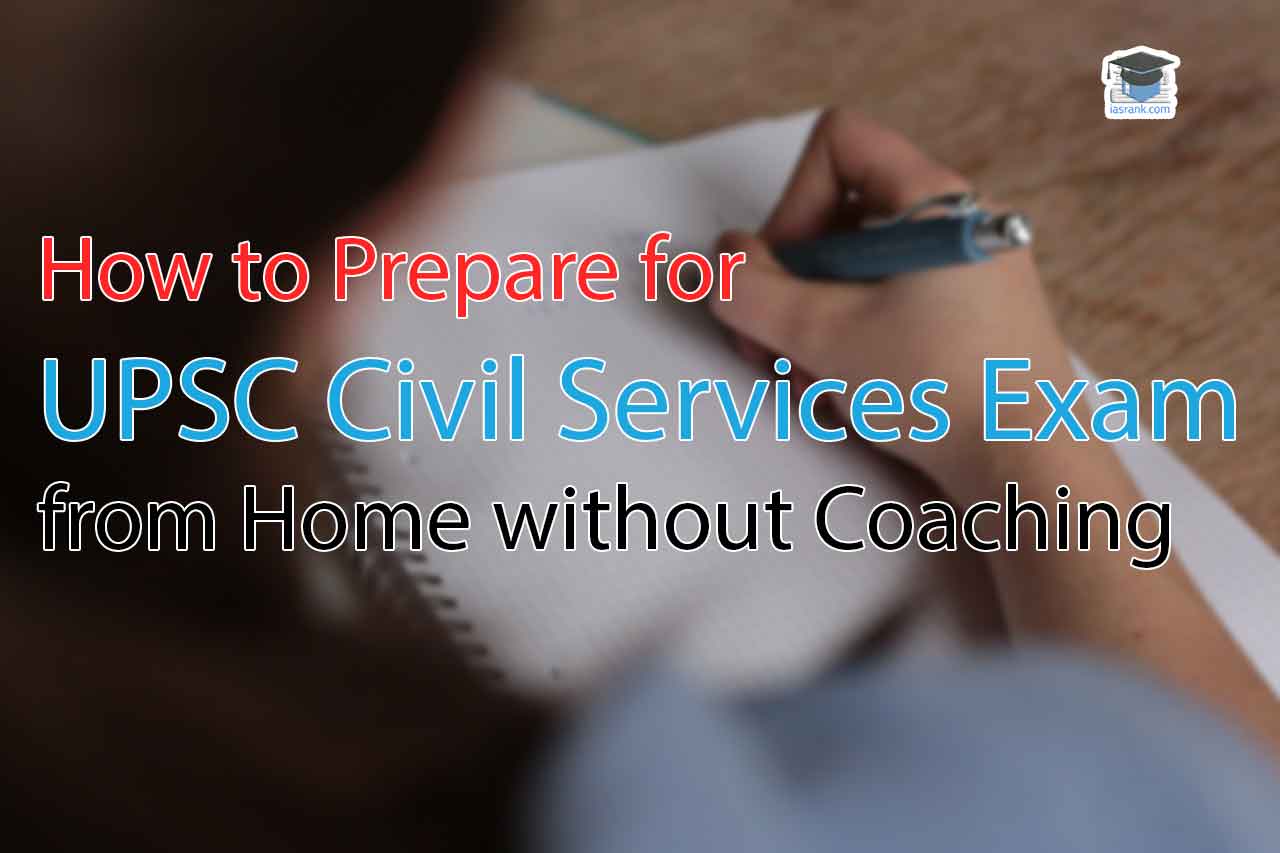 Many candidates disqualify in the mains every year due to poor preparation or the right strategy. As there are 20-25 questions in each of the four papers of GS, a student has to answer within a time limit, and therefore, answer writing practice is important along with coverage of the syllabus of each subject of CSE Mains.
For candidates who will appear in Mains 2022, the focus should be entirely on revision, solving previous year's question papers, and now answering writing practice.
Students planning to appear in CSE Mains 2022 will get ample time to reconcile and recollect information relevant to the UPSC, utilize the existing skills, and acquire relevant knowledge, an in-depth understanding of each subject, and clarity of thoughts and expressions.
Strategy to crack CSE Mains
Stay updated with current issues (read the news in the last year, focusing on current major issues). One can buy The Hindu news compilation, which is released every third month.
Strong your foundation, no need to go to any coaching. Just go through important NCERT books.
Practice answer writing with the coherency of ideas that are connected with dynamic issues
Prepare well for your optional subject. Go through the previous years' question papers and cross-check the issues still in the news.
Essay writing practice (write one essay weekly). Essay topics generally relate to poverty, unemployment, crony capitalism, health, and other issues.
Try to attempt the previous year's Prelims and Mains Question Papers.
Identify your mistakes in the previous year's attempt and rectify them in the next.
Try to cover your mains optional subject while preparing for GS
Lastly, if you target UPSC 2022, revision is the key to success in the mains examination.
Paper wise GS Mains books and sources for civil services preparation
GS Paper-1
Indian heritage and culture, history and geography of the world and society
Sources:
India's Struggle for Independence by Bipin Chandra
Facets of Indian Culture – Spectrum
India since Independence by Bipin Chandra
Certificate Physical and Human Geography by GC Leong
GS Paper-2
Major topics
The federal structure of union and state, separation of power between center and state
Comparison between Indian constitutions with other various constitutions of other countries
Non-Government Organisation (NGO) and Self Help Group (SHG) basic functions. The question is mostly asked from current affairs.
Note: In GS paper 2, questions are from current affairs, majorly covering issues that were in the news in the past year
Sources
For government policies, read India's yearbook, Yojana of the last year, and Kurukshetra. Also, focus on the Comptroller Auditor General (CAG) report on government schemes.
GS paper-3
Major topics
Agricultural issues related to minimum support price, subsidies, irrigation facilities
Macroeconomic issues that are in the news included issues like infrastructure like ports, railway,s and waterways
Issues relating to RBI monetary policy, RBI's role in the economy, 25 years of LPG subsidy, civil aviation policy
Read the Budget and Economic Survey (Twin Balance sheet problem and bad bank loan) to cover the above topics.
Other sources
For science and tech, read The Hindu (Offer Price 899/year),
For the environment, read the climate part of the Economic Survey and India yearbook on the environment
For disaster management, read Tata Mcgraw Hill
For internal security, you can go with Vision IAS Magazine.
GS Paper-4
Major topics
Case studies: Go through the previous year's questions, analyze the mindset of question framers, and see what kind of topics are generally asked for the case studies part. Try to solve as many case studies as possible.
Ethics: Questions are mostly asked about corporate governance, civil service, ethical issues, and private and public affairs of the civil servants
Sources for Ethics: The lexicon for ethics, second ARC recommendation
Once you are done with the basics of polity, geography, history, and economy with the help of NCERT books and the above recommendations, try to spend most of your time analyzing the previous years' question papers and start solving them. It will help you assess yourself and then improvise on the areas lacking.
A month before the examination, try to remain calm and not fret about any topics you have not covered. To better memorize facts, you must go through UNESCO websites, Ramsar sites, national parks, and government websites and keep enrolling yourself in mock test papers that help gain a sense of the exam.