Read Daily Current Affairs of 15th February 2020 for UPSC Civil Services (IAS) Prelims and Mains Exam 2020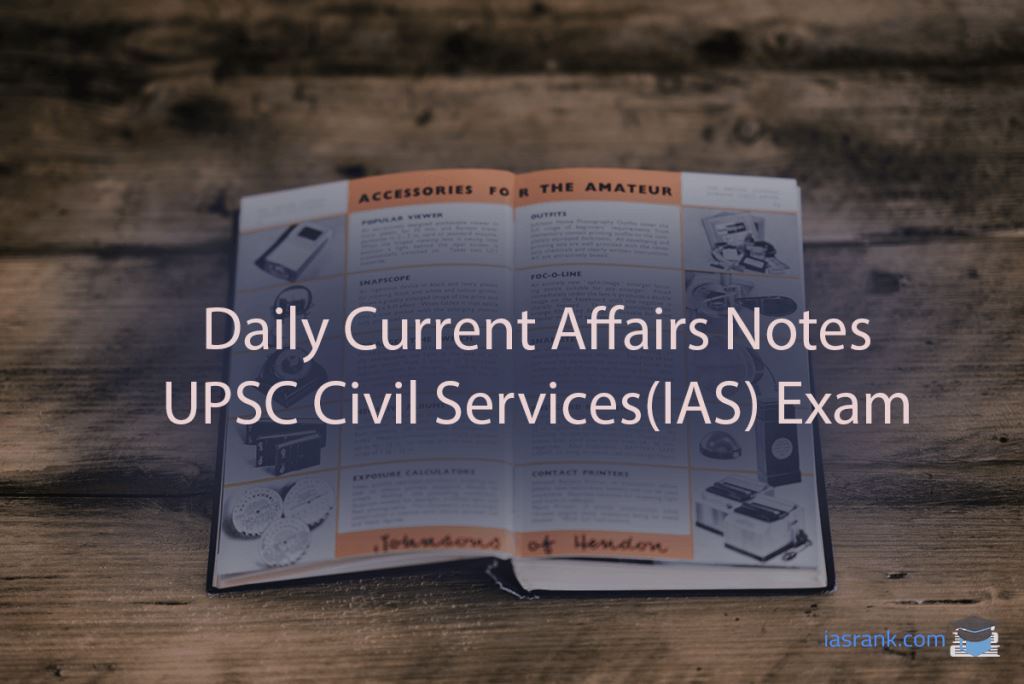 Read Current Affairs Notes of 15th February 2020 for UPSC Civil Services Prelims and Mains Examination 2020. Highlighting all National and International contemporary issues important from the exam point of view.
GS-3, Prelims
Topic: Conservation, environmental pollution and degradation, environmental impact assessment.
Scientists radio-tag Indian pangolin
India, for the first time, has radio-tagged the Indian pangolin, which is an endangered animal and is rarely sighted in forests here.
It has a thick scaly skin.
It is hunted for meat and used in traditional Chinese medicine.
Tagging the animal will help in understanding the habits of the reclusive, nocturnal animal.
Radio-tagging involves adding a transmitter to the animal so as to monitor its movement.
Pangolins are among the most trafficked wildlife species of the world.
Total eight species of pangolins are knownàout of which two exist in India- Indian pangolin and Chinese pangolin.
Both the species are listed under Schedule I Part I of the Wildlife (Protection) Act, 1972.
Prelims
Topic: Current events of national and international importance.
New structure soon for Military Affairs dept.
In the next Defence Acquisition Council (DAC), procurement cases, as prioritized by the Chief of Defence Staff (CDS), will be put up.
A proposal has been sent to the Defence Ministry on a formal structure comprising civil and military officials for the Department of Military Affairs (DMA) headed by the CDS.
At present there is an interim structure.
The proposed DMA will have:

A Secretary, Transformation and Coordination, which will be the chief of Integrated Defence Staff (IDS)

An Additional Secretary à a three-star officer

Joint Secretaries à three officers from each service of the rank of Major general or equivalent.
GS-3, Prelims
Topic: Food processing and related industries in India- scope' and significance, location, upstream and downstream requirements, supply chain management.
Kerala seeks Tamil Nadu's help to tide over milk crisis
The Kerala Cooperative Milk Marketing Federation Ltd. (Milma) is experiencing an unexpected shortage.
The Kerala government has asked Tamil Nadu for milk supplies.
To get over the crisis Kerala is eyeing a daily supply of one lakh litres from Tamil Nadu.
Milma managing director will be meeting the representatives of the Tamil Nadu Cooperative Milk Producer's Federation Ltd. (Aavin).
Current demand supply gaps are being met by supplies from Karnataka Milk Federation (KMF), but Karnataka has capped the supply at one lakh litres from February 1.
The Kerala government is to have talks with Tamil Nadu as a precautionary measure to avert the crisis.
They said that if it doesn't work out, they will have to make purchases from the private players as they require milk supplies for one or two months.
GS-2, Prelims
Topic: Effect of policies and politics of developed and developing countries on India's interests, Indian diaspora.
No trade deal during Trump Visit a setback: U.S. diplomat
Top U.S. Diplomat, Alice Wells, said that if a "tiny phase 1 trade deal" with the U.S. President visiting India could not be achieved, it would be a "big setback".
She was speaking on the sidelines of a United States India Business Council (USIBC) welcome reception for Indian Ambassador Taranjit Singh Sandhu.
U.S. Trade Representative had earlier put off his trip to India, which was scheduled this week.
No reason was given for the change of plans; it is being assumed that he might be visiting as a part of Mr. Trump's entourage.
It is likely that a trade package or a "mini-trade deal" will be finalized between the two countries.
GS-3, Prelims
Topic: Indian Economy and issues relating to planning, mobilization, of resources, growth, development and employment.
Textile policy to be rolled out by mid 2020
Union Ministry of Textiles have said that a textile policy is likely to come out by the middle of this year.
Regarding measures to be taken to attract investments in textiles and clothing, the ministry said that the need for cost-effectiveness is the major challenge.
One of the factors which affect cost effectiveness is the lack of scale.
The ministry plans to develop 10 mega textile parksàeach of them will be an integrated park.
They added that to attract Foreign Direct Investment in textiles India should first have good infrastructure.
The Ministry will be having a meeting with all the Statesà any State which has minimum 1,000 acres ready for the park will be supported to develop it.
Indian textile and garment exports have increased this financial year compared to last yearàlargely cotton based.
The Ministry said that there is a potential of increasing exports by $20-25 billion by moving towards MMF (manmade fibre).
The Budget announced the National Technical Textiles Mission, which is soon to be approvedàthis will increase focus on technical textiles.