Read Daily Current Affairs of 16th January 2020 for UPSC Civil Services (IAS) Prelims and Mains Exam 2020.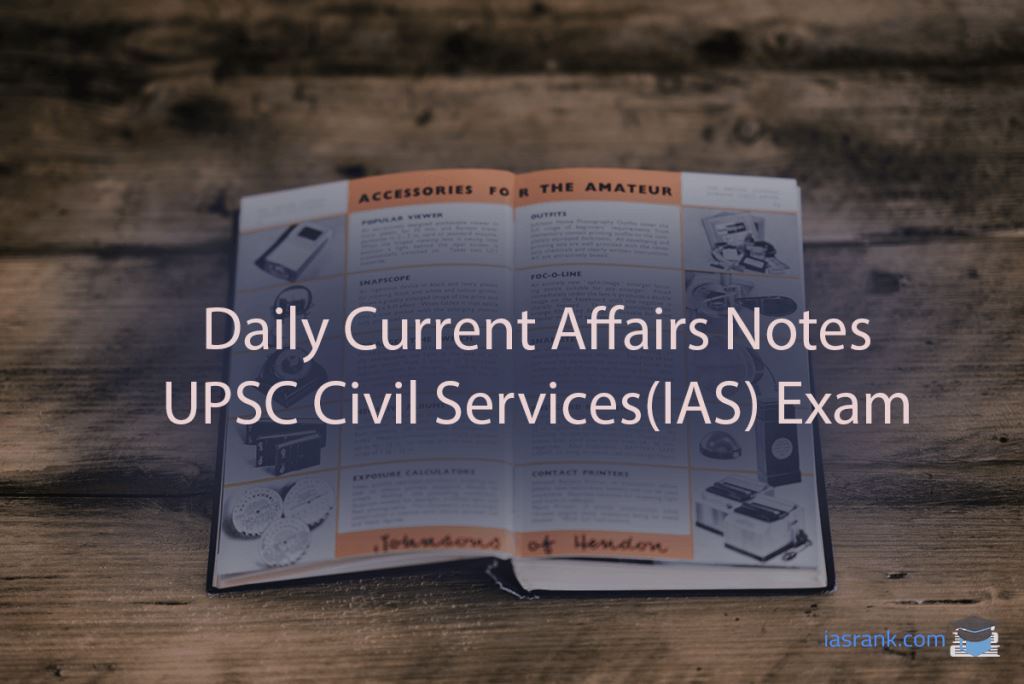 Read Current Affairs Notes of 16th January 2020 for UPSC Civil Services Prelims and Mains Examination 2020. Highlighting all National and International contemporary issues important from the exam point of view.
GS-3
Topic: Indian Economy and issues relating to planning, mobilization, of resources, growth, development and employment.
The nominal GDP worries
Context:
The estimated growth (as per National Statistical Office NSO) in nominal GDP is of 7.53% which is lowest since 1975-76. This is the first time since 2002-03 that GDP growth is projected in single digits.
What is GDP?
GDP stands for gross domestic product.
It is the total market value of all goods and services produced within the country during a year.
What is the Nominal GDP?
When GDP is counted by taking the current prices in the market (inflation) as market value, then that GDP come to be known as Nominal GDP.
What is Real GDP?
When GDP is counted by taking the constant prices (prices of all products taken from a base year- which does not change) as market value, then that GDP come to be known as Real GDP.
GS-2
Topic: International Relations
Iran abandons the 2015 Nuclear Deal
Context:
Iran has announced that it would no longer be abiding to any restrictions on its nuclear program, after the US airstrike killed their top military commander.
The deal, which Iran signed on 14 July 2015, is known as Joint Comprehensive Plan of Action (JCPOA).
The deal was signed between Iran, United States, Chine, France, Russia, United Kingdom, Germany and the European Union.
United states had already pulled itself out of the treaty in May 2018.
Under JCPOA Iran had agreed to limit its sensitive nuclear activities and allow, in return, international inspectors to lift crippling economic sanctions.
Key features:
Iran agreed not to build any heavier water facilities.
To eliminate its medium-enriched uranium stockpile.
Cut its stockpile of low-enriched uranium.
Reduce the number of its gas centrifuges.
In return, economic sanctions imposed by the US, the UN and the EU will be lifted and also Iran will be able to recover assets worth $100 billion frozen in overseas banks
GS-3, Prelims
Topic: Infrastructure: Energy, Ports, Roads, Airports, Railways etc.
2636 EV charging stations sanctioned under FAME-II
Context:
In order to increase clean mobility in Road Transport Sector, the government has decided to set up 2636 EV charging stations in 62 cities in 24 states/UTs under FAME India (Faster Adoption and Manufacturing of Electric Vehicles in India) scheme Phase II.
FAME India Scheme
The scheme was launched in 2015, and is an incentive scheme for promoting greater usage of electric and hybrid vehicles across the country.
It provides financial incentives (in form of subsidies to manufacturers and infrastructure providers of EVs) to enhance electric vehicle manufacturing and for creation of electric transportation infrastructure.
It aims to promote electric mobility.
It is a part of National Mobility Mission Plan.
GS-2, Prelims
Topic: Government policies and interventions for development in various sectors and issues arising out of their design and implementation.
SC on Prohibition of Child Marriage Act, 2006
Context:
In a recent judgement the Supreme Court has held that through anti-child marriage law it does not intend to punish a male aged between 18 to 21 years of age for marrying a 'female adult'.
Prohibition of Child Marriage Act, 2006
The Prohibition of Child Marriage Act, 2006 (PCMA, 2006) recognizes the marriage of a male above 18 years with a female under 18 years as cognizable and non-bailable offence which is punishable with two years imprisonment and a fine of Rs 1 lakh, although it recognizes the union under this kind of marriage to be valid.
The persons who can be punished under the law are:

Whoever performs, conducts or directs or abets any child marriage.

A male adult above 18 years marrying a child.

Any person having charge of the child, including:

Any member of organisation or association, promoting, permitting, participating in a child marriage or failing to prevent it.
GS-3, Prelims
Topic: Science and Technology- developments and their applications and effects in everyday life.
Project NETRA
Context:
In order to save Indian space assets from nearby debris (particles from dead satellites or rocket that stay in the orbit for many years) and other harmful materials the Indian Space Research Organisation (ISRO) has started Project NETRA.
Project NETRA
Network for Tracking and Analysis (NETRA) a warning system that detects the presence of debris and other hazardous objects that can cause harm to Indian satellites.
Estimated cost: Rs. 400 crores.
Its goal is to capture the geo-stationary orbit, where communication satellites operate.
Following facilities are to put up under the project:

Connected radars, telescopes

They can spot, track and catalogue objects as small as 10cm, up to a range of 3,400 km.