Read Daily Current Affairs of 23rd January 2020 for UPSC Civil Services (IAS) Prelims and Mains Exam 2020.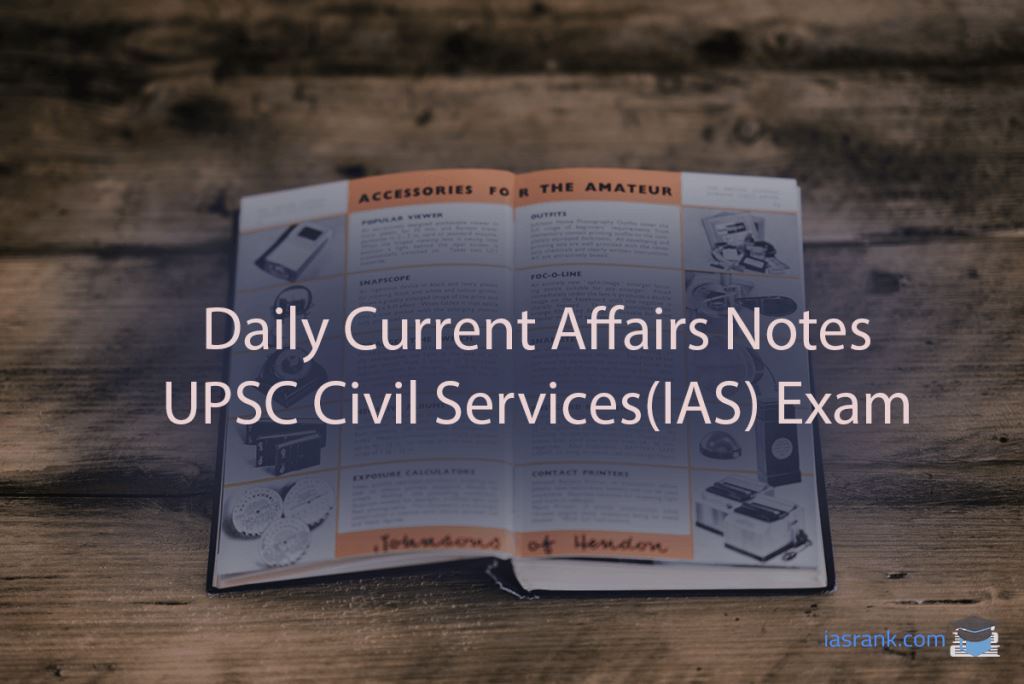 Read Current Affairs Notes of 23rd January 2020 for UPSC Civil Services Prelims and Mains Examination 2020. Highlighting all National and International contemporary issues important from the exam point of view.
Prelims
Topic: Current events of national and international importance.
India drops 10 ranks in Democracy Index
In the recent Democracy Index, which is prepared by The Economist Intelligence Unit, India dropped 10 places and currently stands at 51st rank.
India, the largest democracy of the world, slipped from its overall score of 7.23 to a score of 6.9 on a scale of 0-10 within a year (2018-19).
The main cause of this decline is said to be "erosion of civil liberties in the country".
GS-2, Prelims
Topic: Government policies and interventions for development in various sectors and issues arising out of their design and implementation.
Mumbai to remain open 24×7 from January 27
The pet-project of Maharashtra's Tourism Minister Aditya Thackeray, Mumbai 24 hours, which he had proposed in 2013, and was cleared in 2017 but didn't move forward, is finally to be implemented.
Mumbai will be kept open 24 hours from January 27.
No changes have been made in the excise rules, the bars and pubs which serve alcohol cannot remain open after 1:30 a.m.
The food courts, shops and cafes in malls and mill compounds in non-residential areas of the city can now remain open for 24 hours. Though it is not mandatory, those who want to remain open can do so.
The places which are to stay open will have to follow labour laws by bringing in workers in three shifts.
It is to be done in only non-residential areas to maintain law and peace.
GS-2, Prelims
Topic: Achievements of Indians in science & technology; indigenization of technology and developing new technology.
Meet Vyom Mitra, first Indian 'woman' to ride to space
A half-humanoid named 'Vyom Mitra' will ride in the first test flight of the human space mission, Gaganyaan.
The 'woman' astronaut created a sensation as she introduced herself at an international gathering at ISRO.
Her body stops at torso and has no legs. The functions which the half-humanoid can perform are:

ECLSS (environment control and life support systems) functions

Be a companion and converse with the astronauts, recognize them and also respond to their questions.

Two trail test flights are to be undertaken with the humanoid, first around December 2020 and second around July 2021.
ISRO will study how the human resembling model-and later in 2022 real astronauts-respond to living outside earth in controlled zero-gravity conditions.
The humanoid is a result of year-long toil of ISRO Inertial Systems Unit, Thiruvananthapuram.
GS-2, Prelims
Topic: Government policies and interventions for development in various sectors and issues arising out of their design and implementation.
Cabinet clears Rs 4,372 cr. for six NIT campuses
The six National Institutes of Technology (NITs) have been functioning from temporary structures after being set up in 2009.
The Union Cabinet has now approved Rs 4,371.90 cr. for setting up permanent campuses for NITs in Arunachal Pradesh, Nagaland, Mizoram, Meghalaya, Puducherry and Delhi.
GS-2, Prelims
Topic: Issues relating to development and management of Social Sector/Services relating to Health, Education, Human Resources.
Another extension for OBC sub-categorisation panel
The OBC sub-categorisation commission appointed in 2017, with G. Rohini as its head, had an initial time frame of 12 weeks. It has now been granted a six-month extension in its tenure.
It was appointed for looking into the existing list of OBCs and categorizing the castes that have not benefitted from the reservation in government jobs and education.
It is also expected to provide recommendations for ensuring that these marginalized communities get the benefits of various schemes.
Union Cabinet has approved an addition to the commission's terms of reference. It will now also "study the various entries in the Central List of OBCs and recommend correction of any repetitions, ambiguities, inconsistencies and errors of spelling or transcription".
GS-2, Prelims
Topic: India and its neighbourhood- relations.
Pakistan seeks UN, US help to resolve conflict with India
Pakistan Prime minister has urged the UN and US to help resolve conflicts between India and Pakistan. He said that they must act in order to prevent the two nuclear-armed countries from reaching a point of no return. He was at the World Economic Forum annual meeting in Davos.
Pakistan demanded the UN Military Observer Group in India and Pakistan (UNMOGIP) to be allowed along the Line of Control.
India has argued that the group has outlived its utility after the Shimla Agreement and establishment of LoC as a result, has made UNMOGIP irrelevant.
UNMOGIP was established in January 1949.
GS-3, Prelims
Topic: Indian Economy and issues relating to planning, mobilization, of resources, growth, development and employment.
Offer 'enable', 'disable' options in cards: RBI
The RBI has asked the issuers of credit and debit cards as well as those of non-bank prepaid payment instrument to provide the option of disabling and enabling cards.
This move is aimed to provide customer convenience.
At the time of issuance/re-issuance, all cards (physical or virtual) shall be enabled for use at only contact-based points of usage within India. Contact-based points of usage include:

Point of Sale (PoS) devices

And then the customer will have a facility for enablingà

'card not present' (for domestic and international) transactions

'card present' (for international) transactions and contactless transactions

For existing cards, the issuers may take a decision, based on their risk perception, whether to disable the card not present (domestic and international) transactions, card-present (international) transactions and contactless transaction rights.
RBI said that the customers should also have the facility to switch on or off and set or modify transaction limits for all types of transactions.
Prepaid gift cards and those used at mass transit systems have been kept out of the new rule.