Read Daily Current Affairs of 17th February 2020 for UPSC Civil Services (IAS) Prelims and Mains Exam 2020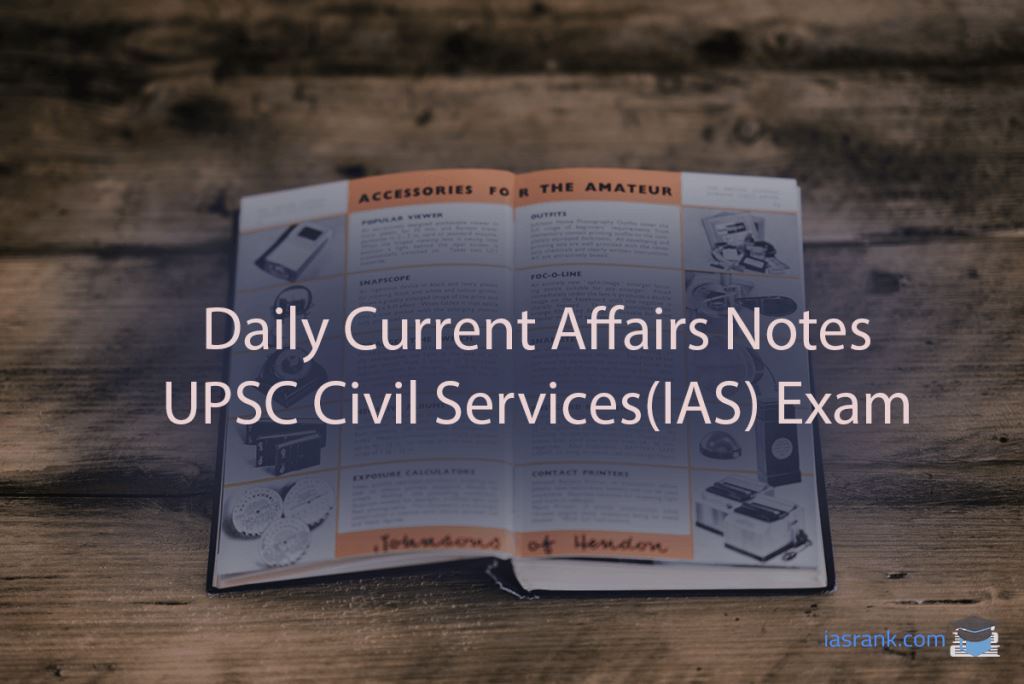 Read Current Affairs Notes of 17th February 2020 for UPSC Civil Services Prelims and Mains Examination 2020. Highlighting all National and International contemporary issues important from the exam point of view.
GS-3, Prelims
Topic: Conservation, environmental pollution and degradation, environmental impact assessment.
New species of urban lizard found in Guwahati
A new species of lizard has been found in Guwahati→ the urban bent-toed gecko.
Guwahati is the largest city in the Northeast.
The new species of lizard has been zoologically named Crytodactylus urbanus.
Crytodactylus is endemic to the area.
It is the 12th recorded gecko from the Northeast. The study of this species tries to establish that some urban spaces too have life forms that are often overlooked but are in danger of being wiped out because of concrete development.
More studies should be done in order to save such species.
Guwahati has 26 species of amphibians, 57 species of reptiles, 214 species of birds and 36 species of mammals.
The city encompasses 18 hills, eight reserve forests, two wildlife sanctuaries and a Ramsar site (wetland) besides Brahmaputra river→thus, it provides for urban biodiversity to thrive.
GS-3, Prelims
Topic: Conservation, environmental pollution and degradation, environmental impact assessment.
Wayanad Tiger Reserve proposal fails to find favour
The Wayanad Wildlife Sanctuary may not be notified as a tiger reserve, in spite of being home to more than half the number of tigers in Kerala, because its proposal lacks public support.
If this proposal of the Kerala Forest Department would have been accepted then the Wayanad Wildlife Sanctuary would have become the third Tiger Reserve in the State.
Status of Tigers in India report of the last year estimated the tiger population in Wayanad as between 75-80.
The two Tiger Reserves in Kerala are:

Periyar Tiger Reserve→ 30-35 tigers

Parambikulam Tiger Reserve→ 20-25 tigers

The Wayanad Wildlife Sanctuary apart from having more than half the tiger population of the State also shares boundary with five Tiger Reserves.
If the proposal is accepted the Sanctuary will be ensured financial aid from the Centre and the National Tiger Conservation Authority (NTCA), better conservation and management of tiger population and will also help generate more employment opportunities.
All the above-mentioned arguments failed to impress the State authorities.
The State Wildlife Advisory Board, chaired by Chief Minister Pinarayi Vijayan, flagged the issue of human-wildlife conflicts in the district.
Earlier public protests were staged against the proposal→the Board also referred to those protests→ and suggested that any such proposal shall only be implemented after holding wide public consultations.
The public protests were staged for the following reasons:

Tigers straying into human habitations

One more speculated reason for public resistance against the proposal is that once notified the notification would bring in stringent restrictions on development activities.
GS-3, Prelims
Topic: Achievements of Indians in science & technology; indigenization of technology and developing new technology.
ISRO making preparations to launch GISAT-1 in March
ISRO is preparing to launch GISAT-1 in the first week of March. It is a new earth observation satellite.
GISAT-1 → Geo Imaging Satellite, will be the first of two planned Indian EO spacecraft to be place in a geostationary orbit of 36,000 km.
It will be at a fixed spot, looking over India at all times.
It will be launched from Sriharikota satellite launch centre.
With the help of this satellite, watch can be kept on our borders and can monitor any changes in the geographical condition of the country.
Other plans of ISRO include:

Launching Chandrayaan-3 within a year.

Developing a space station of its own within a decade.
GS-2, Prelims
Topic: Issues relating to development and management of Social Sector/Services relating to Health, Education, Human Resources.
Madhya Pradesh grapples with spiraling neonatal deaths
According to the National Health Mission (NHM), in the last 3 years, more than 7% of the babies admitted to sick newborn care units (SNCUs), across 13 states, died.
Madhya Pradesh recorded the highest percentage of 11.5%.
Although the admissions of neonates (under 28 days) in the State have dropped in the same period.
Factors responsible for increase in the percentage of deaths are:

Absence of special neonatal transport service to health-centres

Non-availability of enough units to cater to increasing institutional deliveries

Madhya Pradesh also recorded poor sex ratio in admissions→ 663 girls admitted against 1000 boys, while the country average stands at 733.
This lack of admissions can be attributed to the prevailing bias against girl child in society.
Several deaths also go unreported.
Prelims
Topic: Current events of national and international importance.
India inks 14 MoUs with Russia for defence support, spares
14 MoUs have been signed between Indian and Russian companies for setting up joint ventures covering a range of equipment from modern T-90 tanks to legacy Pechora air defence systems.
Signed during Defexpo 2020 in Lucknow
The MoUs come under the last year signed Intergovernmental Agreement (IGA) on joint manufacturing of spares in India for mutual cooperation in manufacturing of spares, components, aggregates and other material related to Russian arms and defence equipment.
There are agreements on emerging technologies too→ Artificial Intelligence, Internet of Things, blockchain and robotics based on Russian technologies under the proposed Indi-Russian Joint Venture ICT Center of Excellence.
GS-2, Prelims
Topic: Important International institutions, agencies and fora-their structure, mandate.
India rejects Guterres mediation offer
The UN Secretary-General Antonio Guterres, while on his four-day visit to Pakistan, said that on the Kashmir issue that he was "ready to help if both countries agree for mediation".
The Indian government has rejected the offer by saying that it will only discuss the matter bilaterally.
India said that the issue of J&K that needs to be addressed is that of vacation of the territories illegally and forcibly occupied by Pakistan. Further issues, if any, would be discussed bilaterally and there is no role for third party mediation.
India hoped that the UN Secretary-General will take action to put an end to cross-border terrorism against India.
Mr. Guterres will also visit the Kartarpur gurudwara and see the pilgrimage corridor with India. He described it as a "unique experiment in cross-border ties".