Read Daily Current Affairs of 21st February 2020 for UPSC Civil Services (IAS) Prelims and Mains Exam 2020.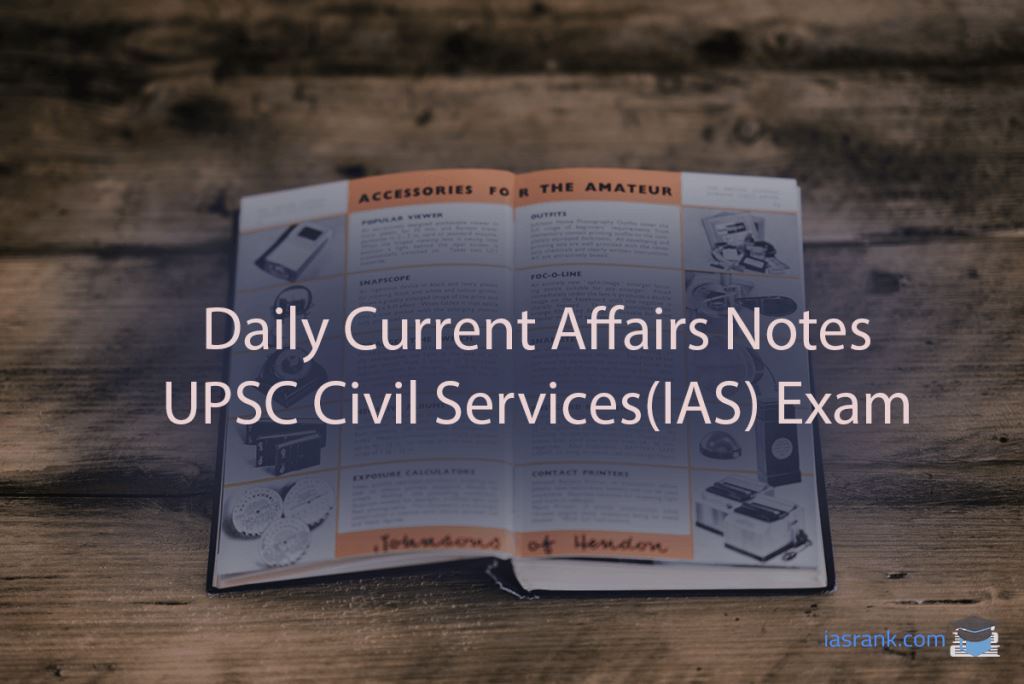 Read Current Affairs Notes of 21st February 2020 for UPSC Civil Services Prelims and Mains Examination 2020. Highlighting all National and International contemporary issues important from the exam point of view.
GS-3, Prelims
Topic: General issues on Environmental ecology, Bio-diversity and Climate Change – that do not require subject specialization.
Govt. to hold a conference with experts to reduce pollution: Rai
Delhi Environment Ministry will hold a conference on 27 February with experts, NGOs and officials to reduce air pollution in the city.
After the conference the Ministry will send letters to the Environment Ministries of Uttar Pradesh, Haryana and Punjab to hold a meeting in Marchà to find solutions to air pollution.
Government is planning to make the fight against air pollution a mass movement because efforts only on the part of the government will not help to reduce the problem.
The Delhi government aims to reduce air pollution by one-third in the next five years.
The Environment Minister added that a joint meeting of all agencies will be held on February 28 to discuss on how to spearhead the Delhi government's plan of planting 40 lakh trees across the city in a year.
GS-3, Prelims
Topic: General issues on Environmental ecology, Bio-diversity and Climate Change – that do not require subject specialization.
Rare turtles rescued in city handed over to Delhi zoo
4 rare turtles were rescued by the Delhi Police and have been handed over to the Delhi zoo.
An inspection of the turtles conducted by the Wildlife Crime Control Bureau identified the three of the four turtles as Indian Tent Turtle (kachuga tecta tecta), which is listed in Schedule I of the Wildlife Protection Act, 1962.
Efforts are being made to identify the person who brought these turtles here because these are rarest of rare species and their possession is prohibited.
GS-2, Prelims
Topic: Statutory, regulatory and various quasi-judicial bodies.
SC passes interim order on Mahadayi tribunal's award
SC passed an interim order allowing an application by the State of Karnataka to notify Mahadayi's Water Dispute Tribunal's award.
Implementation of the award will be subject to the final judgement of the Supreme Court in the civil appeals filed by Karnataka, Goa and Maharashtra, challenging the allocation of water from the Mahadayi river among them.
The plea made by Karnataka to publish the August 2018 tribunal award in the official gazette of India, has not been opposed by either of the two States – Goa and Maharashtra.
Tribunal allocated water from the Mahadayi river basin to the three States as follows:

Karnatakaà 13.42 TMC water

Maharashtraà 1.33 TMC water

The Mahadayi Water Disputes Tribunal was formed in 2010.
Karnataka had petitioned the tribunal seeking the release of 7.56 TMC water for the Kalasa-Banduri Nala (diversion) projectàthe project will utilize water form the inter-state Mahadayi river.
The project is being undertaken by Karnataka to improve drinking water supply in twin cities of Hubballi-Dharwad and the districts of Belagavi and Gadag.
GS-2, Prelims
Topic: Development processes and the development industry —the role of NGOs, SHGs, various groups and associations, donors, charities, institutional and other stakeholders.
A.R. Rahman's NGO gets FCRA licence
Union government has granted Foreign Contribution Regulation Act (FCRA) licence this year to more than 20 non-governmental organisations (NGOs), among them is the A.R. Rahman Foundation, which is run by A.R. Rahman and his family.
Any NGO or association which receives foreign funding, compulsorily require registration under the FCRA, which is monitored by the Union Home Ministry.
FCRA licenses of 20,674 NGOs were cancelled from 2012 onward.
10,002 registrations were cancelled in 2015 alone.
Before 2011, the number of FCRA registrations stood at 40,376.
Under the FCRA, 2010, registered NGOs can receive foreign contribution for five purposes:
GS-3, Prelims
Topic: Indian Economy and issues relating to planning, mobilization, of resources, growth, development and employment.
Economy needs more monetary stimulus, says Das
Reserve Bank of India (RBI) Governor Shaktikanta Das stated that though there are certain 'green shoots', but still the economy needs more monetary stimulus.
This statement indicated that the central bank was open to cutting interest rates.
These are the minutes of the monetary policy committee (MPC) meeting held early in February.
The six-member MPC unanimously voted for status quo at the February policy review on the back of an uptick in inflation.
The RBI had reduced interest rates by 135 basis points (bps) between February and October of 2019 before pressing the pause button in next two policy reviews.
The RBI Governor said that due to the overall growth-inflation situation, it would be prudent to continue focus on growth. He added that he was up for maintaining 'accommodative' stance as long as necessary to revive growth.
An external member of MPC, Chetan Ghate, highlighted the need for structural reforms as fiscal and monetary stimulus, so far, have been unable to revive economic growth.
Another external member cautioned on inflationary pressures due to disruptions in supply of Chinese imports because of COVID-19.