Read Daily Current Affairs of 21st January 2020 for UPSC Civil Services (IAS) Prelims and Mains Exam 2020.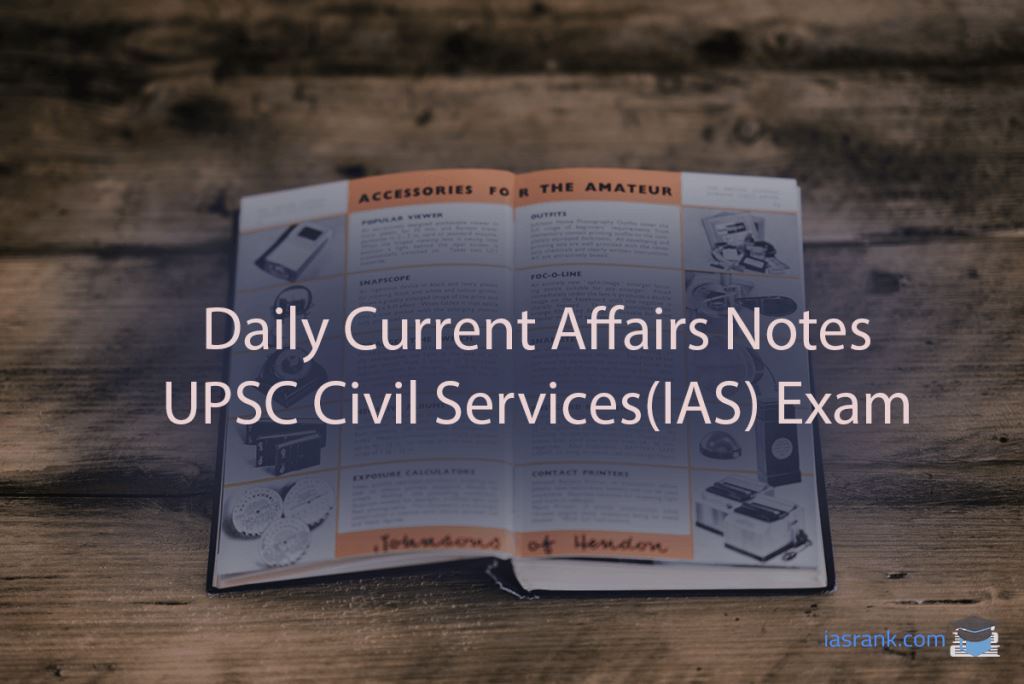 Read Current Affairs Notes of 21st January 2020 for UPSC Civil Services Prelims and Mains Examination 2020. Highlighting all National and International contemporary issues important from the exam point of view.
GS-3, Prelims
Topic: Indian Economy and issues relating to planning, mobilization, of resources, growth, development and employment.
IMF lowers India's growth forecast to 4.8%
IMF has forecasted a growth of 4.8% in India in this fiscal year.
Earlier in October last year, the IMF had pegged India's economic growth at 6.1% for 2019.
So, clearly this year the estimated growth is lower and IMF has listed the country's much lower-than-expected GDP numbers as the single biggest drag on its global growth forecast for two years.
The decline is caused due to these factors according to the IMF:

Stress in the non-bank financial sector

Overall credit sluggishness

The growth is said to improve in the next year due to factors like positive impact of corporate tax rate reductions.
GS-2
Topic: Welfare schemes for vulnerable sections of the population by the Centre and States and the performance of these schemes; mechanisms, laws, institutions and Bodies constituted for the protection and betterment of these vulnerable sections.
Plea in SC against welfare schemes for minorities
SC has asked the government to respond to a petition claiming that Hindus were discriminated against on the grounds of religion. Schemes worth Rs 4,700 crore were started in favour of only some religious minorities.
It also said that government and parliament cannot promote minoritism or show an inclination towards minorities. Such behaviour can prove detrimental for sovereignty and integrity of the nation and will give rise to separatists and may lead to situation of another division of the nation.
The plea also challenged the validity of establishment of the National Commission for Minorities (NCM).
Other arguments include:

Government cannot be provided the power of declaring any community as 'minority community'

Parliament cannot make laws for the benefit of any religion

Under Article 15(4) special benefit and advantage can only be provided to those communities who are found 'socially and educationally backward' classes of citizens by a commission set up under Article 340 of the Indian Constitution.

No religion or religious group can be promoted through tax-payers money and therefore, no minority commission can be created to achieve the purposes enumerated in the Act.
GS-2, GS-3, Prelims
Topic: Issues relating to development and management of Social Sector/Services relating to Health, Education, Human Resources.
STEP joins govt's NEAT initiative
STEP is an online certification course of The Hindu (newspaper) Group.
It has been selected to be part of the government's National Educational Alliance for Technology (NEAT).
It has been selected by the Ministry of Human Resource Development (MHRD) and All India Council for Technology (AICTE).
The flagship product of STEP, the STEP Train, will be featured on the NEAT portal as a certification course and will be accessible to over 2500 AICTE approved institutions.
STEP Train was selected for its use of Artificial Intelligence in improving language-learning outcomes for students.
GS-2, Prelims
Topic: Important aspects of governance, transparency and accountability, e-governance applications, models, successes, limitations, and potential; citizens charters, transparency & accountability and institutional and other measures. / Role of civil services in a democracy.
Mantralaya 'war room' is now 'mission room'
Maharashtra Mantralaya's 'War Room' has been renamed and will now be known as 'Sankalpa Kaksha' or 'Mission Room'.
The name was changed because it was felt that the word 'war' had a negative connotation.
This room was started in May 2015, for reviewing projects and to push long-pending projects stuck in bureaucratic bottlenecks with military efficiency.
Some of the projects monitored in the room (which have been pending for long) include:
It is a 50-seater room. Access to this room was only given to top-most bureaucrats and ministers. Confidential decisions were taken here.
Meetings were held once in two months and would review around 30 projects in two hours in 'war mode'. Targets and strategies devised were time-bound and everything was monitored.
Prelims
Topic: Current events of national and international importance.
Thanjavur gets Sukhoi squadron
The Indian Air Force (IAF), at its Thanjavur Air Force Station, has inducted a squadron of Sukhoi-30 MKI fighter jets armed with BrahMos supersonic cruise missiles.
This is the first Sukhoi squadron of the IAF with BrahMos missiles.
GS-3, Prelims
Topic: Conservation, environmental pollution and degradation, environmental impact assessment.
Government yet to seek green nod for water aerodromes
10 water aerodromes, which were awarded to airlines in January 2019, are yet to seek environment clearance.
They were awarded to the airlines for seaplane operations a year ago after the announcement of winners of the third round of UDAN (Ude Desh ka Aam Nagrik), which is government's low-cost flying scheme. The aerodromes awarded were as follows:

SpiceJet- 8 water aerodromes in Gujarat, Assam and Andaman and Nicobar

Turbojet Aviation Private Limited- 2 water aerodromes.

The process for three water aerodromes has been initiated, but seven are still remaining.
The Ministry of Civil Aviation will submit the request to the Environment Ministry phase-wise. The process of getting Environment clearance requires a lot of data like the bathymetric test.
GS-2, Prelims
Topic: Current events of national and international importance.
Iran says it may pull out of NPT
After progressively rolling back from the Joint Comprehensive Plan of Action (JCPOA), Iran has now said that it may pull out of the Non-Proliferation Treaty (NPT) too if a dispute over its atomic plan goes before the United Nations Security Council (UNSC).
Britain, France and Germany have last week started the process of charging Iran with failure to observe the terms of 2015 nuclear deal (JCPOA). This process can lead to re-imposing of international sanctions on Iran by the UNSC.
Iran has accused Britain, France and Germany of inaction when the US, after withdrawing from the JCPOA in 2108, reimposed sanctions on Iran. They have failed in living up to their promises of easing the impact of US sanctions.
GS-2, Prelims
Topic: Important International institutions, agencies and fora-their structure, mandate.
Pak. urges US to get it off FATF grey list
Ahead of the important meeting of the international terror financing watchdog, which is to be held in Beijing, Pakistan has urged the US to support its bid to exit from the Financial Action Task Force (FATF) grey list.
The Financial Action Task Force (FATF) is based in Paris, France.
Pakistan has been added to the Grey List for its failure at curbing funnelling of funds to terror groups LeT, JeM and others.
If Pakistan stays in the Greylist till April, it may move to the blacklist of countries and will face severe economic sanctions as Iran.
Pakistan has submitted a report to FATF on January 8, answering 150 questions raised by the FATF over Pakistan's policies on money laundering.
The report also outlines steps taken by Pakistan's government between October 2019 to January 2020 to implement the FATF's recommendations.