Read Daily Current Affairs of 22nd February 2020 for UPSC Civil Services (IAS) Prelims and Mains Exam 2020.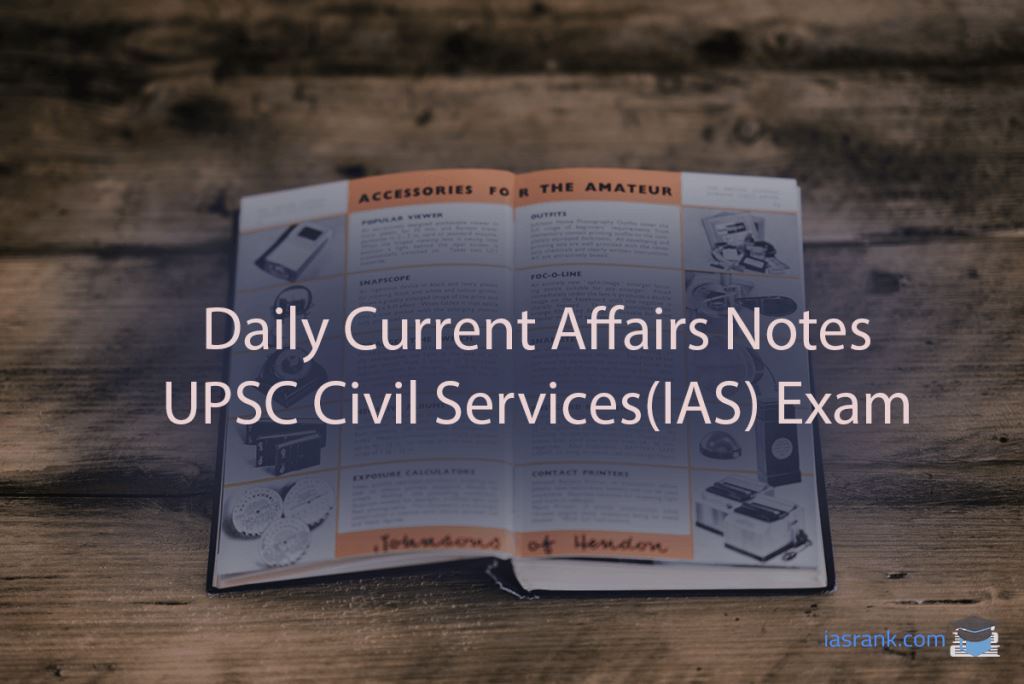 Read Current Affairs Notes of 22nd February 2020 for UPSC Civil Services Prelims and Mains Examination 2020. Highlighting all National and International contemporary issues important from the exam point of view.
GS-2, Prelims
Topic: Parliament and State legislatures—structure, functioning, conduct of business, powers & privileges and issues arising out of these.
Matia Mahal MLA Iqbal appointed pro tem Speaker
Lieutenant-governor of Delhi appointed Aam Aadmi Party (AAP) Matia Mahal legislator Shoaib Iqbal as the pro tem Speaker of the Delhi Legislative Assemble.
As provided by the Constitution, the Speaker of the last Legislative Assembly vacates his office immediately before the first meeting of the newly elected Legislative Assembly.
Therefore, the Governor appoints a member of the Legislative Assembly as the Speaker Pro Tem.
Usually, the senior-most member is selected for this.
The Governor himself administers oath to the Speaker Pro Tem.
The Speaker Pro Tem has all the power of the Speaker. He presides over the first sitting of the newly-elected Legislative Assembly.
His main duty is to administer oath to the new members.
He also enables the house to elect the new speaker.
When the new Speaker is elected by the house, the office of Speaker Pro Tem ceases to exist. Hence, his office is a temporary office, existing for a few days.
GS-3, Prelims
Topic: Infrastructure: Energy, Ports, Roads, Airports, Railways etc.
New solar energy park to come up in Rajasthan's Jaisalmer
A new 925 MW solar energy park will shortly come up at Nokh in Jaisalmer district of Rajasthan.
For the park, an implementation support agreement has been signed with the resolve to promote desert State as country's top destination of renewable energy.
Production of solar power at the plant will start before December 2021.
Agreement is likely to bring investment worth Rs 4,000 crore in the State.
The agreement was signed between following in the presence of State Energy Minister:

NTPC Limited à will develop solar photovoltaic projects in the park at an estimated investment of Rs 3,500 crore

Rajasthan Solar Park Development Company Limited (RSDCL) à will build infrastructure at the solar park's 1,856.73-hectare land at an investment of Rs 450 crore

RSDCL is a subsidiary of Rajasthan Renewable Energy Corporation (RREC).
Rajasthan has an immense potential for solar power production due to availability of solar radiation throughout the year.
New policies in the last year have provided several relaxations and facilities to the investors for tapping solar, wind and hybrid energy.
The Ministry laid emphasis on research for developing capacity for solar energy storage so that energy could be stored and used by farmers for agricultural use during night too.
GS-3, Prelims
Topic: Infrastructure: Energy, Ports, Roads, Airports, Railways etc.
Tamil Nadu may get four major textile projects
Under the Union Ministry of Textiles' "Mega Textile Park Scheme", Tamil Nadu is likely to get:

One mega textile park à

for which minimum 1,000-acre land should be provided by the State

A technology park for textiles machinery à

aim is to make textile machinery production indigenous by developing technology in-house or bringing in technology from other countries.

infrastructure for the project is to be developed in Surat and Coimbatore

this will be a smaller park

A technical textiles park à

Salem was likely to be the choice

A technology research centre à

It is to be probably set up in Coimbatore

The efforts of Union Textile Ministry to help Indian textile and clothing sector have been welcomed by the Confederation of Indian Textile Industry.
GS-2, Prelims
Topic: Government policies and interventions for development in various sectors and issues arising out of their design and implementation.
GoM meet discusses Juvenile Justice Act
A Group of Ministers (GoM), which was chaired by Union Home Minister, met on Friday to discuss proposed amendment to the Juvenile Justice (Care and Protection of Children) (JJ) Act, 2015.
The meeting was steered by the Women and Child Development Minister Smriti Irani.
2015 Act addressed the following two key issues:

Apprehension. Detention, prosecution, penalty or imprisonment, rehabilitation and social re-integration of children in conflict of law

Procedures and decisions or orders relating to rehabilitation, adoption, reintegration and restoration of children in need of care and protection

The meeting to discuss the proposed amendment was convened to seek views from all senior Cabinet Ministers.
GS-3, Prelims
Topic: India and its neighbourhood- relations.
India, Maldives agree to take on terrorism, radicalization
Union Home Minister Amit Shah met Maldivian Home Minister on Friday.
They discussed bilateral cooperation in the fields of:

Policing and law enforcement

The delegation officers also met chiefs of the National Investigation Agency, Narcotics Control Bureau, Central Bureau of Investigation and the Enforcement Directorate.
They also visited the Sardar Vallabhbhai Patel National Police Academy (SVPNPA), Hyderabad, and the Gujarat Forensic Sciences University (GFSU), Gandhinagar.