Read Daily Current Affairs of 9th January 2020 for UPSC Civil Services (IAS) Prelims and Mains Exam 2020.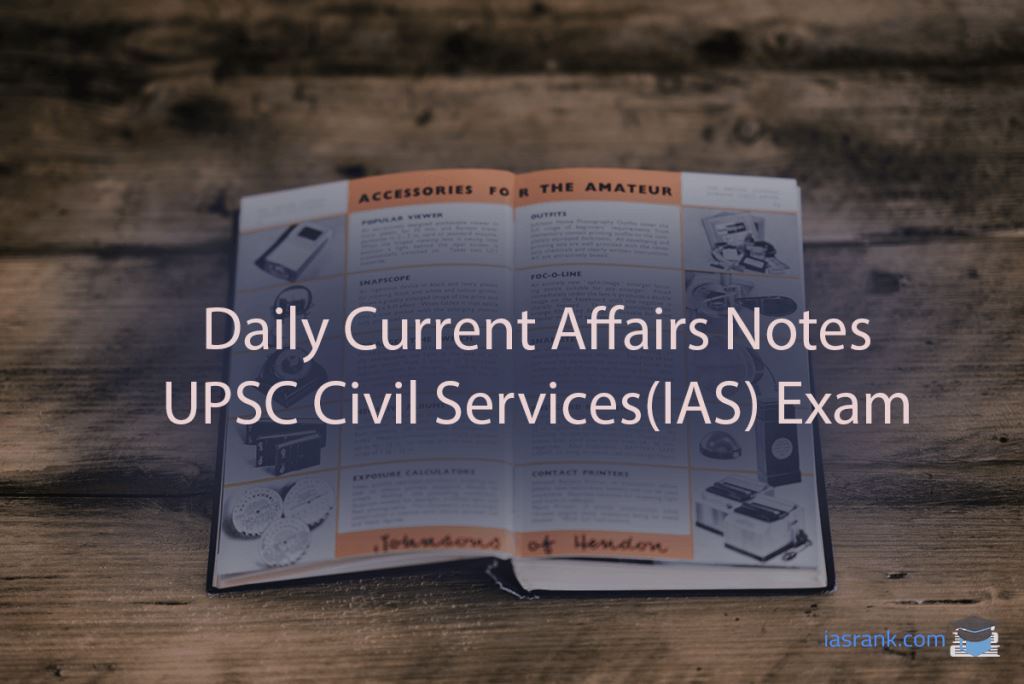 Read Current Affairs Notes of 10h January 2020 for UPSC Civil Services Prelims and Mains Examination 2020. Highlighting all National and International contemporary issues important from the exam point of view.

GS-2, GS-3, Prelims
Cabinet nod for FDI in coal mining
Topic: changes in industrial policy and their effects on industrial growth.
What is the news?
The government has approved an ordinance to amend two laws to ease mining rules and for enabling Foreign Direct Investment (FDI) in coal mining.
The amendments are to be done in the Mines and Minerals (Development and Regulation) Act, 1957 and Coal Mines (Special Provisions) Act, 2015 which will boost the ease of doing business and increase growth avenues for coal mining.
"End-use restrictions" have been done away with, allowing "anyone to participate in the auction of coal blocks".
The ordinance would strengthen the auction process of mines whose leases are expiring on March 31, 2020. Seamless transfer of clearances would also be facilitated.
Mines and Minerals (Development and Regulation) Act, 1957
It is an Act of Parliament of India enacted to regulate the mining sector in India. It has been previously amended in 2015 and 2016.
It forms the basic framework of mining regulation in India.
It details the process and conditions for acquiring a mining or prospecting license in India.
Mining minor minerals come under the purview of state governments.
Coal Mines (Special Provisions) Act, 2015
The objective of this act is to empower the government to allocate the coal mines on the basis of competitive bidding to ensure continuity in coal mining operations and promote optimum utilization of coal resources.
There were end-use restrictions on the eligibility to participate in the auction of Schedule II and Schedule III mines of this act, which have now been done away with.
GS-2
Jagan to launch Amma Vodi scheme today
Topic: Government policies and interventions for development in various sectors and issues arising out of their design and implementation.
Andhra Pradesh government will launch the Jagananna Amma Vodi program in Chittoor.
Under the scheme, financial assistance of Rs. 15000 will be given to nearly 43 lakh mothers or guardians who send their children to school.
Student enrollment has increased by 30% after the announcement of the scheme.
Other primary education-related schemes
Sarva Shiksha Abhiyan
National Program for Education of Girls at Elementary Education (NPEGEL)
Midday Meal Scheme
Right to Education (RTE) Act
Beti Bachao, Beti Padhao
Kasturba Gandhi Balika Vidyalaya
Scheme for Infrastructure Development in Minority Institutions (IDMI)
GS-3, Prelims
Re-grassing is mandatory after mining, rules SC
Topic: Conservation, environmental pollution and degradation, environmental impact assessment.
The Supreme Court has ordered that mining leaseholders should be held responsible for re-grassing mine areas, so that biodiversity gets a second chance in these scarred landscapes.
It has ordered the government to include re-grassing of mine areas as a mandatory condition in every mining lease, environment clearance and mining plan across the country.
There are several environmental issues that are caused by mining. Some of them are:

Contamination of soil, groundwater and surface water by chemicals from mining processes
and these effects persist for years.
The cost of re-grassing the mine areas and wherever damage was caused, would be entirely borne by the license holder.
The mandatory re-grassing would be in addition to the other conditions imposed on the license holder in the mine closure plan, to restore biodiversity.
GS-2
Plea in SC on minority institution's appointment
Topic: Indian Constitution—historical underpinnings, evolution, features, amendments, significant provisions and basic structure.
What is the news?
The plea is to examine the January 6 judgment of the Supreme Court which declared the state is well within its rights to regulate the appointment of teachers to minority-run institutions in 'national interest'.
Article of the Constitution related to minority-run institution's appointment
Article 30(1) of the Constitution of India gives linguistic and religious minorities a fundamental right to establish and administer educational institutions of their choice. These rights are protected by a prohibition against their violation.
GS-3
2019 was 7th warmest year since 1901
Topic: Bio-diversity, Environment
According to the report from the Indian Meteorological Department (IMD), the year 2019 was the seventh warmest since record-keeping commenced in 1901.
According to the World Meteorological Organisation, the rise in global mean surface temperature during 2019 (January to October) was + 1.10 C.
The Main contributor is global warming and it is said that it is raising average temperatures globally as well as in India.
Indian Meteorological Department (IMD)
IMD is an agency of the Ministry of Earth Sciences of the Government of India.
It is the principal agency responsible for meteorological observations, weather forecasting and seismology.
Headquarters: New Delhi
it was founded in 1875.
World Meteorological Organisation
It is an intergovernmental organisation with 193 member states.
Headquarters: Geneva, Switzerland
Founded: 23 March 1950
Global warming
Global warming is the long-term rise in the average temperature of Earth's climate system. It is a major aspect of climate change.
Global warming is caused by several reasons and greenhouse gases. Greenhouse gases include:
G2, Prelims
Nod for pact with gates foundation
Topic: Issues relating to the development and management of Social Sector/Services relating to Health, Education, Human Resources.
The cabinet has approved a Memorandum of Cooperation (MoC) between the Department of Health and Family welfare and the Bill & Melinda Gates Foundation (BMGF) on cooperation in the field of health.
It was signed in November 2019 during the visit by Bill gates.
GS-2,GS3
Rs. 5559 crores to set up North-East gas grid
Topic: Infrastructure: Energy, Ports, Roads, Airports, Railways etc.
The government has decided to directly fund a gas pipeline the second time.
The Cabinet Committee on Economic Affairs (CCEA) approved Rs. 5559 Crore viability gap funding for the proposed North East gas grid.
The 1656-kilometer North East natural gas pipeline grid will connect Guwahati in Assam to major cities in regions Itanagar, Dimapur, Imphal, Aizwal, Agartala, Shillong, Silchar, Gangtok and Numaligarh.
The pipeline will enable the supply of:

Piped cooking gas to households

However, in the absence of anchor customers the Rs. 9265 crore pipeline is not economically viable. The CCEA headed by prime minister approved a viability gap funding of 60% of the project cost.
The pipeline grid is to be implemented by the Indradhanush Gas Grid.
Which was the first instance of government directly funding a gas pipeline?
GS-3
CJI urges government to provide exclusive CISF team to secure quotes
Topic: Various Security forces and agencies and their mandate
What is the news?
The Chief Justice of India, Sharad Arvind Bobde, has asked the government to provide a separate and dedicated cadre of Central Industrial Security Force (CISF) for security cover to court complexes across the country.
He said that such a force would thwart sudden spurts of violence like the one recently seen at the Tis Hazari court complex between lawyers and the police.
CISF
The Central Industrial Security Forces is a Central Armed Police Force in India.
It was set up under the Act of Parliament of India on 10 March 1969.
Its motto is: Protection and Security
It falls under the Ministry of Home Affairs.
Headquarters: New Delhi
Functions:
It works for seaways, airways and some of the major installations in India.
Some reserved battalions work with the state police to protect law and order.
It plays a vital role in Disaster Management, personnel are trained in NISA, Hyderabad for the Disaster management course.
It also has a Fire Wing which helps during fire accidents in Industries where CISF is on guard.