Read Daily Current Affairs of 12th February 2020 for UPSC Civil Services (IAS) Prelims and Mains Exam 2020.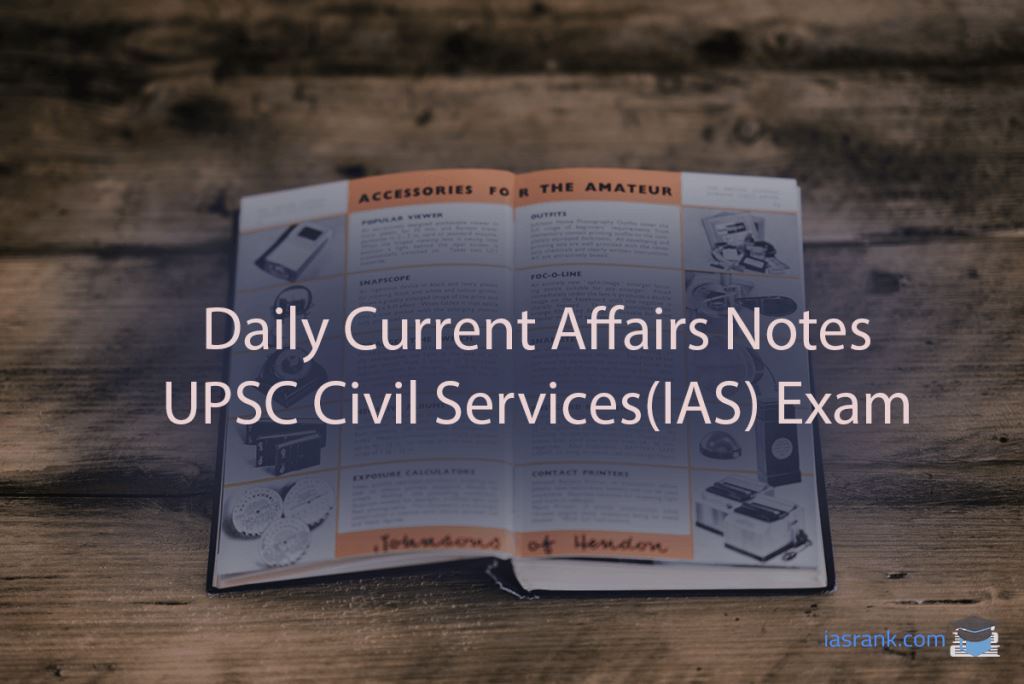 Read Current Affairs Notes of 12th February 2020 for UPSC Civil Services Prelims and Mains Examination 2020. Highlighting all National and International contemporary issues important from the exam point of view.
GS-3, Prelims
Topic: Sustainable Development/ Conservation, environmental pollution and degradation, environmental impact assessment.
Society must help conserve water: expert
Revival of rivers and streams is only possible when society takes upon itself to conserve water and take ownership of resources.
Water conservationist Rajendra Singh spoke at the National Water Right Convention. He discussed the draft of the Right to Water Bill at Madhya Pradesh →said until now activists have been working alone, with government's support water bodies could be protected and use could be made judicious.
Mr. Singh is known as the "Waterman of India".
He has advised the government on the proposed law that "ownership of water bodies among masses has led to the revival of several rivers in a parched State like Rajasthan. With such laws, the model could be replicated across the country."
He gave the following suggestions:

Streams, rivers and other water bodies should be identified →then panchayats should be roped in →and then people would take lead.

Efforts should be made to curb mining on riverbeds.

CM of Madhya Pradesh said that, the next generation would not forgive us for our negligence. He added, "During the 1992 Rio Earth Summit, I had said the talk on environment and forests is incomplete without the issue of water being raised."
GS-1, Prelims
Topic: Important Geophysical phenomena such as earthquakes, Tsunami, Volcanic activity, cyclone etc., geographical features and their location-changes in critical geographical features (including water-bodies and ice-caps) and in flora and fauna and the effects of such changes.
Ministry of Earth Sciences may go in for decadal forecast system
Like the United Kingdom's Met Office, the Ministry of Earth Sciences (MoES) is planning a 'decadal forecast' system →to ensure better predictability in the climate time scale.
The Secretary of MoES, spoke at the sidelines of the 6th International Conference on Climate Services being held at the Indian Institute of Tropical Meteorology, Pune →that the system would be first to be taking shape in the form of a research programme and would be operational only after its merits had been evaluated.
It will be based on a coupled climate model by utilizing signals emanating from deep oceans to predict decadal climate changes.
The MoES refused to elaborate on operational aspects of the programme and said that first significant research for determining the system's effectiveness will be conducted.
The World Meteorological Organisation has set up global producing centres, coordinated by U.K. Met Office, for annual to decadal projections that are already providing global-scale information.  
MoES said that there has been a lot of work done on decadal forecasting and India should not lag behind.
There are a number of gaps in understanding of regional climate variability and its connection to global phenomena like Indian Ocean Dipole.
India faces challenges in maintaining the quality of climate observations, so there is a need to develop applications for specific sectors based on available climate forecast.
GS-2, Prelims
Topic: Current events of national and international importance.
U.S. President Trump confirms India visit on February 24,25
U.S. President Donald Trump will visit India on February 24 and 25 along with his wife.
They will attend official engagements in New Delhi and Ahmedabad, Gujarat and will interact with a wide cross-section of Indian society.
Mr. Trump and Prime Minister Narendra Modi will hold the "Kem Chho Trump" (Howdy Trump) event at the new Sardar Vallabhbhai Patel Stadium, which is the largest cricket stadium in the world.
GS-3, Prelims
Topic: Indian Economy and issues relating to planning, mobilization, of resources, growth, development and employment.
Economy not in trouble asserts FM 
During the debate on Union Budget in Lok Sabha, the FM said that the economy is not in trouble.
She highlighted seven macro-economic indicators as signs of revival, which she called "green shoots". Some of them are:

Higher foreign direct investment (FDI)

Improvement in net foreign portfolio investment (FPI)

Growth in Index of Industrial production (IIP)

All-time high forex reserves

She also outlined details of the government's initiatives to drive the four engines of growth, namely:
GS-2, Prelims
Topic: Government policies and interventions for development in various sectors and issues arising out of their design and implementation.
Bill to include more tribes in ST category
Lok Sabha, on 11 February, passed the Constitution (Scheduled Tribes) Order (Amendment) Bill by voice vote.
The amendment seeks to include the Parivara and Talawara communities in the ST category.
Siddi tribes of Belagavi and Dharwad in Karnataka would also be included in the ST category.