Read Daily Current Affairs of 26th February 2020 for UPSC Civil Services (IAS) Prelims and Mains Exam 2020.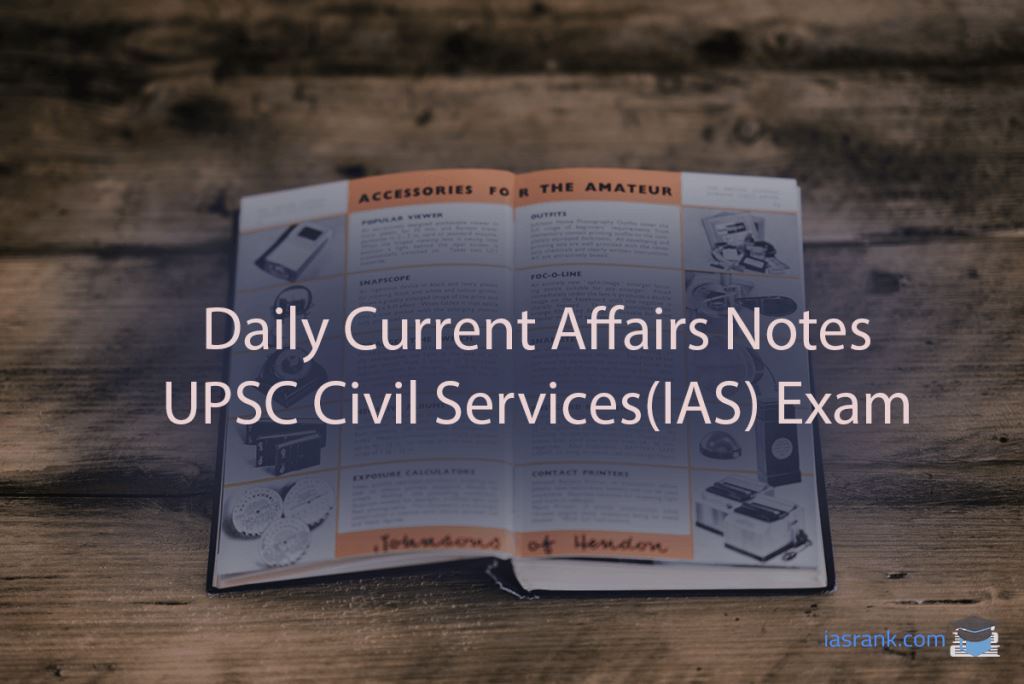 Read Current Affairs Notes of 26th February 2020 for UPSC Civil Services Prelims and Mains Examination 2020. Highlighting all National and International contemporary issues important from the exam point of view.
GS-3, Prelims
Topic: Conservation, environmental pollution and degradation, environmental impact assessment.
Ghaziabad most polluted city in the world
According to a global compilation of PM2.5 particulate pollution data by IQAir (a company that primarily works on air filtration), following results have come up:

India is 5th most polluted country.

Ghaziabad in NCR is the most polluted city in the world.

Air pollution in India has decreased (by 20%) in 2019 as compared to 2018 → due to "slowing of the market place".

Half of the 50 most polluted cities are in India.

Cities in India exceed the World Health Organisation target for annual PM2.5 exposure by 500%.

India launched a 'National Clean air Programme' (NCAP) in 2019. The programme commits to reduce air pollution in 102 most polluted cities by a maximum of 30% by 2024.
GS-2, Prelims
Topic: Bilateral, regional and global groupings and agreements involving India and/or affecting India's interests.
India, the U.S. to upgrade ties, call on Pak. to curb terror
India and the U.S. resolved to upgrade their bilateral relations to a Comprehensive Global Strategic Partnership that will include issues such as:

Revitalization of Indo-Pacific Quadrilateral dialogue →consisting of Japan, the U.S., India and Australia.

Both nations have also called upon Pakistan to curb cross-border terror threats and sought justice for the victims of 26/11 attack and the Pathankot terror attack of 2016.
Called for concentrated action against all terrorist groups and all their affiliates.
Both the countries took note of the efforts done by ASEN region to create a code of conduct in the South China Sea.
India and the U.S. also agreed to undertake development activities in third world countries and intensify cooperation in the space domain.
They have resolved to maintain the Internet as a free and secure arena while recognizing the need for an innovative digital ecosystem that is secure and reliable and facilitates the flow of information and data.
Prime Minister Narendra Modi observed that defence had a major role in the relationship between India and U.S.
GS-2, Prelims
Topic: Bilateral, regional and global groupings and agreements involving India and/or affecting India's interests.
The dairy sector may have to yield trade-offs to the U.S.
Indian and American leaders have highlighted that mutual tariff concessions would be part of an upcoming trade deal → some of these concessions were expected to come from the Indian dairy sector.
A senior Commerce Ministry official said that they are not looking at hugely disadvantaging India's dairy sector but without some negotiations, we can't expect to get something in return which can prove to be useful for some other section of the industry.
He added that in a deal, the balance has to be struck.
He said that the final decision would be based on political factors, given that the dairy sector provides livelihood to 15 crore Indian farmers, many of whom own just one or two animals.
He viewed that it is not so much an economic issue as it is a political one.
Farmer groups have been urging the Centre that agriculture and dairy be left out of trade deals.
Another issue is that India has denied importing diary products because of presence of non-vegetarian elements in cattle feed abroad.
GS-3, Prelims
Topic: Current events of national and international importance.
WHO warns of pandemic risk
The World Health Organization has warned that although the COVID-19 cases have peaked in China but it could still grow into a pandemic as infections have spread to other countries.
More than 2,000 cases and around 30 deaths have been recorded outside China → prompted several restrictions on travelers from infected nations.
The countries which have logged sharp increases in infections and deaths include:
WHO chief praised China's drastic quarantine measures in several cities for helping to prevent an even bigger spread.
He said that virus could still be contained and countries should be "doing everything we can to prepare for a potential pandemic."
GS-3, Prelims
Topic: Current events of national and international importance.
Indian refiners buy crude bound for China at deep discounts
Due to worsening effects of coronavirus on energy markets, China (the world's largest importer of oil) has cut its refining output by over 1.5 million barrels per day (BPD).
Due to this, Indian refiners are buying crude oil headed to China at deep discounts (between $3 and $5 per barrel of crude).
The price of crude oil has also fallen down because of the spreading of the virus.
India is the world's third-largest crude importer and meets 83% of its crude requirements through imports.
Iraq has become India's top crude oil supplier (overtaking Saudi Arabia) by exporting 26 million tonnes to India during April-September 2019.