Read Daily Current Affairs of 13th January 2020 for UPSC Civil Services (IAS) Prelims and Mains Exam 2020.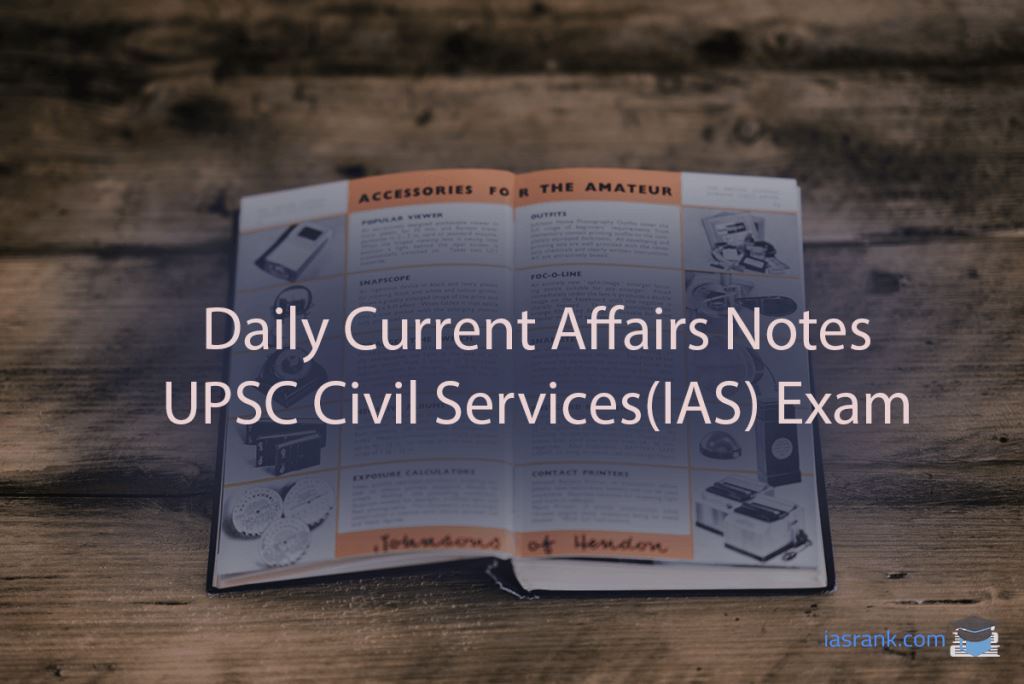 GS-2
Topic: fundamental rights
No gender discrimination during recruitment
Context
The All India Institute of Medical Sciences (AIIMS) nurses' union wrote to the Union Health Ministry demanding equality of opportunity for all citizens in matters relating to employment or appointment to any office under the state.
Article 16 of the Indian Constitution
Article 16 gives the guarantee of equality of opportunity in matters of public employment.
It is a fundamental right.
Article 16(1) & 16(2) have laid down a general rule that there shall be equal opportunity for all citizens and thus emphasizes on universality of Indian citizenship.
Article 16(3) provides exceptions: As per this article residence qualifications may be made necessary in the case of appointments under the state for particular positions, thus making the domicile provisions stronger, however, the power is not vested in the states but in Parliament to prescribe the requirement as to residence in the state.
GS-1
Topic: Indian culture will cover the salient aspects of Art Forms, literature and Architecture from ancient to modern times.
Tourist participate in a turban wearing competition during the 27th International Camel Festival in Bikaner on Sunday
Context
The 27th International Camel Festival is being held in Bikaner, Rajasthan.
Bikaner
Bikaner is a colorful and culturally rich town of Rajasthan state.
It is known for:
Forts– Junagarh fort, Bikaner fort, etc.
Tourism
Camels esp. Camel Festival, which is organized every year in the month of January.
It is a big wool production center and has a unique Camel Research Farm.
Bhujias, Rasgullas, Papads
GS-2
Topic: Governance, Fundamental Rights
Over 60% teaching posts unfilled: RTI
Context
Set up in 2006, Rajasthan Technical University currently functions with less than 50% of sanctioned staff including teaching and nonteaching posts, shows an RTI reply.
Right to Information (RTI)
In India, the organisation called Mazdoor Kisan Shakti Sangathan was instrumental in the passage of RTI Act. Aruna Roy along with Jayaprakash Narayan of Loksatta and others is the mastermind behind the RTI Act 2005.
Right to Information (RTI) is an act of the Parliament of India which sets out the rules and procedures regarding citizens' right to information.
It replaced the erstwhile Freedom of Information Act, 2002.
Under the provisions of RTI Act, any citizen of India may request information from a "public authority" (a body of Government or "instrumentality of State") which is required to reply expeditiously or within thirty days.
In case of matter involving a petitioner's life and liberty, the information has to be provided within 48 hours.
This law was passed by Parliament on 15 June 2005 and came fully into force on 12 October 2005.
Article 19(1) of the Indian Constitution specifies that the Right to Information (RTI) is a part of the fundamental rights. As under Article 19 every citizen has freedom of speech and expression and people cannot speak unless they know.
GS-1
Topic: Important Geophysical phenomena such as earthquakes, Tsunami, Volcanic activity, cyclone etc.
Earthquake rocks Ladakh, no casualties
Context
A medium intensity earthquake measuring 5.3 on the Richter scale hit the Union Territory of Ladakh.
Earthquake prone Zones in India
Earthquake is the violent shaking of the ground due to the moving lithospheric plates.
Over 59 % of India's land area is under threat of moderate to severe earthquakes.
Bureau of Indian Standards, based on the past seismic history has divided the country into four seismic zones, viz. Zone II, III, IV and V.
After the occurrence of the Killari earthquake in Maharashtra (1993) seismic zone map was revised and Seismic Zone I was merged with Seismic Zone II.
Zone II is the least seismically active region, while zone V is the most active region.
The area covered under different seismic zones include,
Zone II:
Low intensity zone.
Covers 40.93% area
Major parts of peninsular region and Karnataka Plateau.
Zone III:
Moderate intensity zone.
30.79% area
Areas- Kerala, Goa, Lakshadweep islands, remaining parts of Uttar Pradesh, Gujarat and West Bengal, Parts of Punjab, Rajasthan, Madhya Pradesh, Bihar, Jharkhand, Chhattisgarh, Maharashtra, Odisha, Andhra Pradesh, Tamil Nadu and Karnataka.
Zone IV:
Severe intensity zone.
17.49% area
Areas- remaining parts of Jammu and Kashmir, Himachal Pradesh, National Capital Territory (NCT) of Delhi, Sikkim, Northern Parts of Uttar Pradesh, Bihar, West Bengal, parts of Gujarat, small portions of Maharashtra near the west coast and Rajasthan.
Zone V:
Very severe intensity zone.
10.79% area
Areas- entire northeastern India, parts of Jammu and Kashmir, Himachal Pradesh, Uttarakhand, Rann of Kutch in Gujarat, part of North Bihar and Andaman & Nicobar Islands.
GS-1
Topic: Indian culture will cover the salient aspects of Art Forms, literature and Architecture from ancient to modern times.
Villagers participating in a community fishing event ahead of Bhogali Bihu celebrations in Tezpur, Assam on Sunday
Bihu
Bohag Bihu or Rongali Bihu also called Xaat Bihu is a festival celebrated in the state of Assam and northeastern India.
It marks the beginning of the Assamese New Year.
It usually falls on 2 April week, historically signifying the time of harvest.
This year it will be continue from 14 Apr, 2020 till 20 Apr, 2020.
GS-1, GS-3, Prelims
Topic: General issues on Environmental ecology, Bio-diversity and Climate Change/flora and fauna
Crocodile population on the rise in Odisha Ghodahada reservoir
Context
Twenty-one mugger crocodiles live in ten village ponds adjoining Ghodahada reservoir of Odisha's Ganjam district that houses 44 of these reptiles.
This example of peaceful coexistence of humans and crocodiles in the Digapahandi forest range under Berhampur forest division was revealed during annual crocodile census conducted in the region few days ago.
Ghodahada reservoir
Situated in Odisha.
National parks in Odisha- 2

Simplipal National Park in Mayurbhanj district

Bhitarkanika National Park

Wildlife sanctuaries in Odisha- 21
GS-3, Prelims
Topic: Conservation, environmental pollution and degradation, environmental impact assessment.
Jallikattu
Jallikattu (or sallikkattu), is a traditional event in which a bull is released into a crowd of people, and multiple human participants attempt to grab the large hump on the bull's back with both arms and hang on to it while the bull attempts to escape.
Participants hold the hump for as long as possible, attempting to bring the bull to a stop.
It takes place in Tamil Nadu state of India as part of Pongal celebrations which happens in January every year.
GS-2
Topic: Environment and Ecology
Two more Maradu towers brought down with precision
Context
It took around nine months and some tough talking by the Supreme Court for the State government to act against the violations.
Since its landmark judgment on May 8, 2019, the Supreme Court Bench headed by Arun Misra had closely monitored the implementation of its decision to demolish the four apartment complexes that were constructed in violation of the Coastal Regulation Zone (CRZ) guidelines.
Coastal Regulation Zone (CRZ) guidelines:
Under the Environment Protection Act, 1986 of India, notification was issued in February 1991, for regulation of activities in the coastal area by the Ministry of Environment and Forests (MoEF).
As per the notification, the coastal land up to 500m from the High Tide Line (HTL) and a stage of 100m along banks of creeks, estuaries, backwater and rivers subject to tidal fluctuations, is called the Coastal Regulation Zone (CRZ).
Above notification includes only the inter-tidal zone and land part of the coastal area and does not include the ocean part. The notification, imposed restriction on the setting up and expansion of industries or processing plants etc. in the said CRZ.
CRZ along the country has been placed in four categories. These are CRZ-1, CRZ-2, CRZ-3, CRZ-4.

CRZ-1: these are ecologically sensitive areas these are essential in maintaining the ecosystem of the coast. They lie between low and high tide line. Exploration of natural gas and extraction of salt are permitted

CRZ-2: these areas are urban areas located in the coastal areas. Now under new coastal zone regulations 2018, the floor space index norms have been de-freezed.

CRZ-3: rural and urban localities which fall outside the 1 and 2. Only certain activities related to agriculture even some public facilities are allowed in this zone

CRZ-4: this lies in the aquatic area up to territorial limits. Fishing and allied activities are permitted in this zone. Solid waste should be let off in this zone. This zone has been changed from 1991 notification, which covered coastal stretches in islands of Andaman & Nicobar and Lakshadweep
GS-2
Topic: Issues relating to development and management of Social Sector/Services relating to Health, Education, Human Resources. /Issues relating to poverty and hunger.
India's under-5 girls face high mortality
Context
India is among the few countries in the world where, in 2018, the mortality for girls under 5 years of age exceeded that of boys, according to the 'Levels and Trends in Child Mortality' report by the United Nations (UN) interagency group for child mortality.
The countries showing gender disparities in child mortality are primarily located in Southern Asia and Western Asia.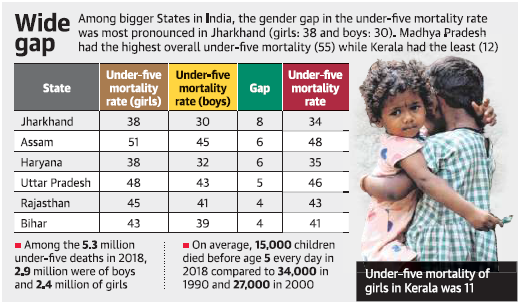 According to India's 2017 Sample Registration System, the States with the highest burden of neonatal mortality are Madhya Pradesh, Odisha and Uttar Pradesh, with 32, 33 and 30 neonatal deaths per 1,000 live births, respectively.
India's neonatal mortality rate is 23 per 1,000 live births.
Further, Jharkhand, Bihar and Uttarakhand showed the largest gender gaps in under5 mortality.
The burden of child mortality is determined both by the mortality rate (the proportion of children who die) and by the estimated population of any given State (total number of annual births).
Half of all under5 deaths in 2018 occurred in five countries: India, Nigeria, Pakistan, the Democratic Republic of the Congo and Ethiopia. India and Nigeria alone account for about a third.
The major causes of neonatal mortality are:
Preterm birth
Intrapartum related events
Neonatal infection
The report adds that despite advancements made over the past two decades, a child or a young adolescent died every five seconds in 2018.
According to the report, "current trends predict that close to 10 million 5to 14yearolds, and 52 million children under 5 years of age, will die between 2019 and 2030."