Read Daily Current Affairs of 14th February 2020 for UPSC Civil Services (IAS) Prelims and Mains Exam 2020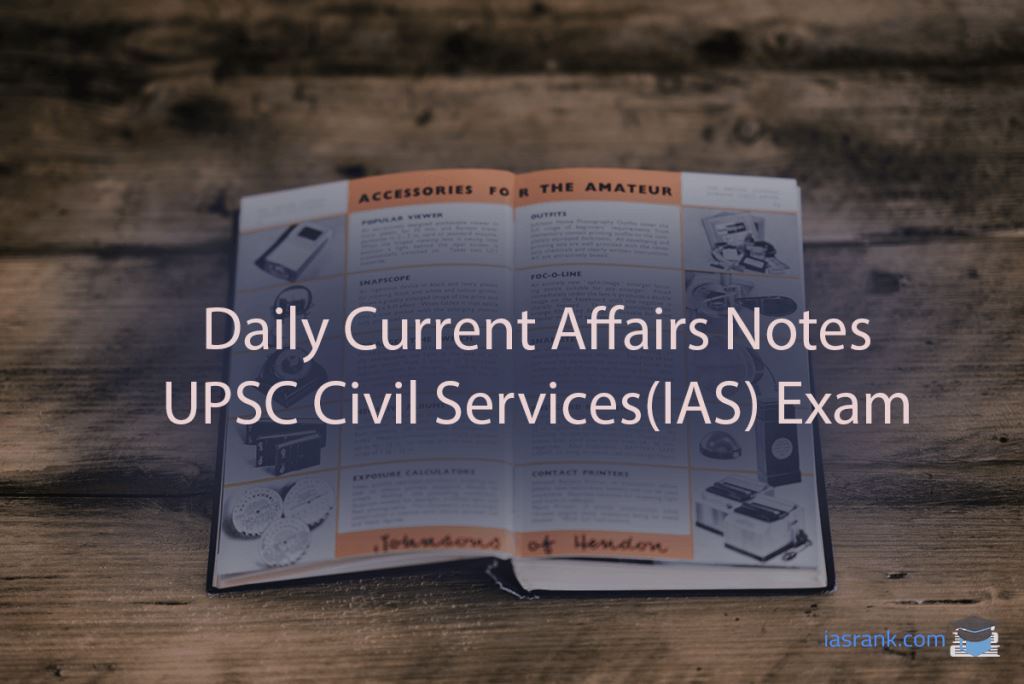 Read Current Affairs Notes of 14th February 2020 for UPSC Civil Services Prelims and Mains Examination 2020. Highlighting all National and International contemporary issues important from the exam point of view.
GS-2, GS-3, Prelims
Topic: Effect of policies and politics of developed and developing countries on India's interests, Indian diaspora.
USTR takes India off developing country list
U.S. government changed an administrative rule→now easier to impose countervailing duties (CVDs) on goods from India and some other countries.
The Office of United States Trade Representative (USTR) published a notice, amending lists of developing and least-developed countries that are eligible for preferential treatment with respect to CVD investigation.
India was on the list of 'developing country' till February 10, and thus was eligible for relaxed norms.
India was taken off the list along with Brazil, Indonesia, Malaysia, Thailand and Vietnam.
In 1998, U.S. had come up with lists of nations classified as per their development level.
The 1998 list helped in determining if the countries were subject to U.S.' CVDs.
As per the recent notice of USTR, the 1998 rule/list is now 'obsolete'.
U.S. and India are trying to finalise a trade package between them.
GS-3, Prelims
Topic: Infrastructure: Energy, Ports, Roads, Airports, Railways etc.
Going energy neutral, 13 SCR railway stations tap the sun
South Central Railway (SCR) became the first in Indian Railways to come up with the concept of "Energy Neutral" stations.
Such stations will be capable of meeting 100% energy requirements by tapping natural solar power through Solar Photo Voltaic (SPV) panels.
The SPV panels have been commissioned on 13 station buildings.
The total capacity of solar panels installed at the 13 stations is 99 kWp and the cost incurred is around Rs 50 Lakh.
It is anticipated that the solar panels will lead to savings of Rs 13 lakh every year.
It is an eco-friendly concept→generation of clean solar energy will also help reduce the carbon footprint to the tune of 1,170 tonnes per year.
GS-3, Prelims
Topic: General issues on Environmental ecology, Bio-diversity and Climate Change – that do not require subject specialization.
Time running out to reduce greenhouse gas emissions
The South Asia Future Earth Regional Office, Divecha Centre for Climate Change, Indian Institute of Science released "The Future of Earth, 2020" report.
The report listed five global risks that have the potential to impact and amplify one another to lead to a global systematic crisis. The risks mentioned are as follows:

Failure of climate change mitigation and adaptation

Major biodiversity loss and ecosystem collapse

222 leading scientists from 52 countries conducted the survey by Future Earth, an international sustainability research network.
Report was prepared with the aim of reducing carbon footprint and stopping global warming below 2 degree Celsius by 2050.
GS-2, Prelims
Topic: Government policies and interventions for development in various sectors and issues arising out of their design and implementation.
Use OTP to avert misuse of Aadhaar data: HC
Delhi High Court directed that the Centre to take into account the suggestions given by court-appointed amicus curiae to prevent misuse of Aadhaar information.
The amicus suggested:

Using OTP authentication instead of using biometrics.

UIDAI should create awareness among the general public about the possible misuses of Aadhaar.

Put up a "cooling off period" between authentications "to ensure that if multiple authentications take place in quick succession the UIDAI systems would not respond, and thus effectively blocking loopholes as is highlighted in the instant case"→a case wherein a mobile shop owner had misused Aadhar details by asking the customer, during Aadhaar verification, to give his thumb impression twice by saying it was not properly obtained the first time. Then he used this second round of authentication for issuing fresh SIM cards to a third party for use in fraudulent activities.

FIRs relating to misuse of Aadhaar information should be forwarded by investigating agencies to UIDAI→so it can have information about loopholes and can create methods to address them.
Prelims
Topic: Current events of National and International importance
Cloud over trade talks as U.S. official puts off trip
U.S. Trade Representative has put off his trip to India, which was scheduled this week.
India-U.S. trade relations have already hit a rough patch.
No reason has been given for the change of plans; it is being assumed that he might be visiting as a part of Mr. Trump's entourage.
It is likely that a trade package or a "mini-trade deal" will be finalized between the two countries on items that the two sides have been negotiating for more than two years now.