Read Daily Current Affairs of 14th January 2020 for UPSC Civil Services (IAS) Prelims and Mains Exam 2020.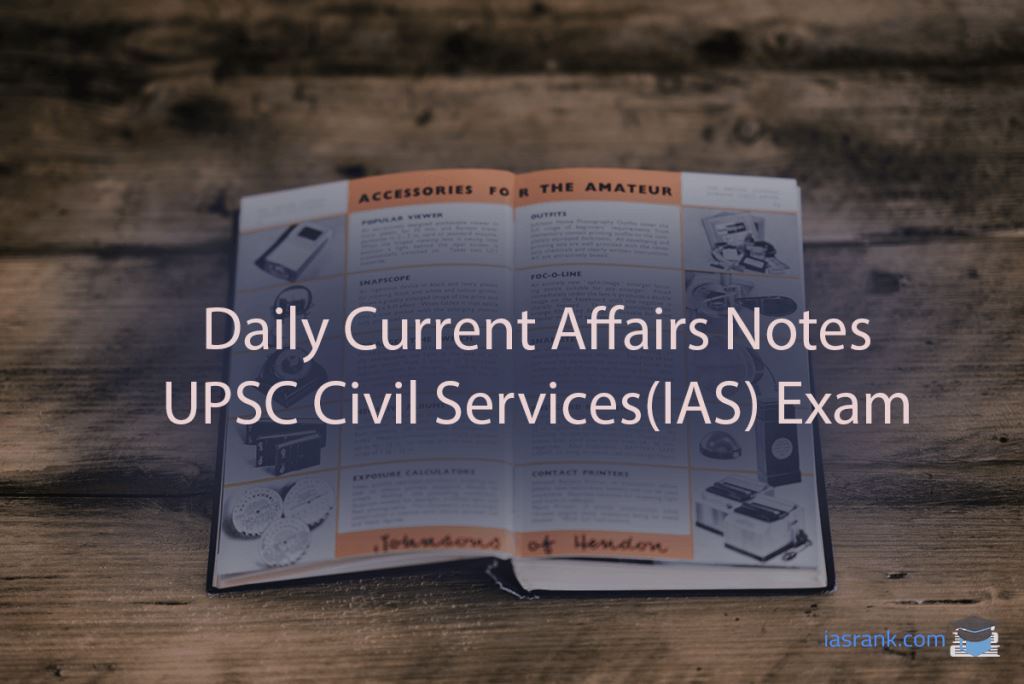 Read Current Affairs Notes of 14th January 2020 for UPSC Civil Services Prelims and Mains Examination 2020. Highlighting all National and International contemporary issues important from the exam point of view.
GS-2
Topic: Indian Constitution—historical underpinnings, evolution, features, amendments, significant provisions, and basic structure.
Private property is a fundamental right, says SC
State, if grabs private land of its citizen and claims it as its own then state, is encroacher.
The state cannot use the power of "adverse possession" to take over the private property of its own citizen.
In the welfare state, the right to property is a human right.
Adverse possession- it is a plea that allows the trespasser to gain legal ownership over such grabbed land for over 12 years.
Context:
Supreme Court was hearing a case of a Himachal Pradesh resident, whose 4 acres of land was taken by the state government in 1967. She didn't know of her rights and entitlements back then and got aware of them in 2000 through her neighbors who have gone through the same situation.
The supreme court held that:

In 1967, the Right to Property was still a fundamental right under Article 31 of the Indian constitution.

It was after the 44th constitutional amendment in 1978, that it was omitted.

Still, Article 300A required the state to follow due process in order to acquire private property of its citizens.
GS-2, Prelims
Topic: Indian Constitution—historical underpinnings, evolution, features, amendments, significant provisions, and basic structure.
SC not to review Sabarimala case, to examine 'larger issues'
On 14 November last year, a five-judge bench led by then CJI Ranjan Gogoi framed 7 questions regarding whether "essential religious practices" should be provided protection under Article 26 of the Indian Constitution (Freedom to manage religious affairs).
The 7 questions were referred to as a seven-judge Bench. Instead of seven-judge Bench, a nine-judge Bench has been formed under the Chief justice of India Sharad Arvind Bobde.
The 7 questions under focus are:
What would be the interplay between freedom of religion under Articles 25 and 26 and the right to equality under Article 14?
The Right to practice religion is subject to 'public order, morality, and health under Article 25(1). What do these terms actually mean?
Is constitutional morality the over-arching morality in reference to the Preamble or limited to religious beliefs or faith?
Should and, if so, how far can a court enquire into whether a religious practice is essential to a particular faith?
What is the meaning of the expression 'sections of Hindus' appearing in Article 25(2)(b) of the Constitution?
Whether "essential religious practices" deserve constitutional protection under Article 26?
What is the extent to which courts should entertain PILs questioning religious practices filed by a third person who is not a member of that faith?
GS-2, Prelims
Topic: Important aspects of governance, transparency, and accountability
Treat plea on VVPAT as the representation
Delhi High Court asked the Election Commission to treat a plea on VVPPAT as a representation.
The petition was for inspection of VVPAT slips of EVM used in all constituencies during the 2019 Lok Sabha elections.
VVPAT– voter-verified paper audit trail (which is used in electronic voting machines/EVMs)

It is designed to verify the vote cast by the voter.

It detects fraud or malfunction.

It is a means of providing stored electronic results which can be audited.
GS-1, Prelims
Topic: Indian culture will cover the salient aspects of Art Forms, literature and Architecture from ancient to modern times.
Inscriptions confirm the presence of two medieval monasteries at Moghalmari
Study of inscriptions at Moghalmari, a Buddhist site in Medinipur district of West Bengal have confirmed the presence of two monasteries/viharas there:

Mughalayikaviharika (resemble the modern name of the site, Moghalmari)

Yajnapindikamhavihara (meaning of 'place of sacrificial offering')

These monasteries date from 6 century CE and continue to function until the 12th century CE.
Bengal journal on Indian archaeology- PratnaSamiksha
Inscription:

Language– North Indian Brahmi and early Siddhamatrika

Xuan Zang, the Chinese traveler during 7th century CE, mentions about 10 monasteries within the limits of Tamralipta (modern-day Tamluk, near Medinipur district) but he gave no specific names. At least two of them have been identified now.
Through Buddhist texts, it is known that monasteries have a hierarchy, this hierarchy is reflected in the Moghalmari inscription also:
GS-2, Prelims
Topic: e-governance applications, models, successes, limitations, and potential;
Government launches road accident database
Central accident database management system has been launched by the government
It will help in analyzing the causes of road accidents.
It will also aid in formulating safety measures/intervention for preventing such accidents.
It is to be piloted in six States first which account for highest road accidents, these are:
Karnataka
Madhya Pradesh
Maharashtra
Rajasthan
Tamil Nadu
Uttar Pradesh
The Integrated Road Accident Database (IRAD) has been developed by IIT Madras and will be implemented by the National Informatics Centre at a cost of Rs. 258 crores. The project is being supported by the World Bank.
GS-2, Prelims
Topic: Current events of national and international importance.
PM and World leaders to attend Raisina dialogue
Over 700 participants from 100 countries will visit and 40% of them would be women.
Raisina dialogue is to be organised from January 14 in Delhi by External Affairs Ministry jointly with the Observer Research Foundation.
It is organised every year and this is the fifth edition of the conference.
Some of the countries to be part of the conference include Russia, New Zealand, South Korea, Iran, Canada, Australia, Sweden, Afghanistan, Denmark, USA, Bhutan.
As per the statement of the Ministry "The conference has been India's contribution to the world to discover solutions, identify opportunities and provide stability to a century that has witnessed an eventful two decades."
The Title of the dialogue this year is "Navigating the Alpha Century".
This year will have no sitting head of government or state participants after the Australian government head withdrew due to forest fires in the country.
The Special feature of the dialogue this year is:

A session on Indo-Pacific will include Naval and Military commanders from "Quadrilateral or Quad"- Australia, India, Japan and the United States of America. It will also include French defense officials on panel this year.