Read Daily Current Affairs of 20th January 2020 for UPSC Civil Services (IAS) Prelims and Mains Exam 2020.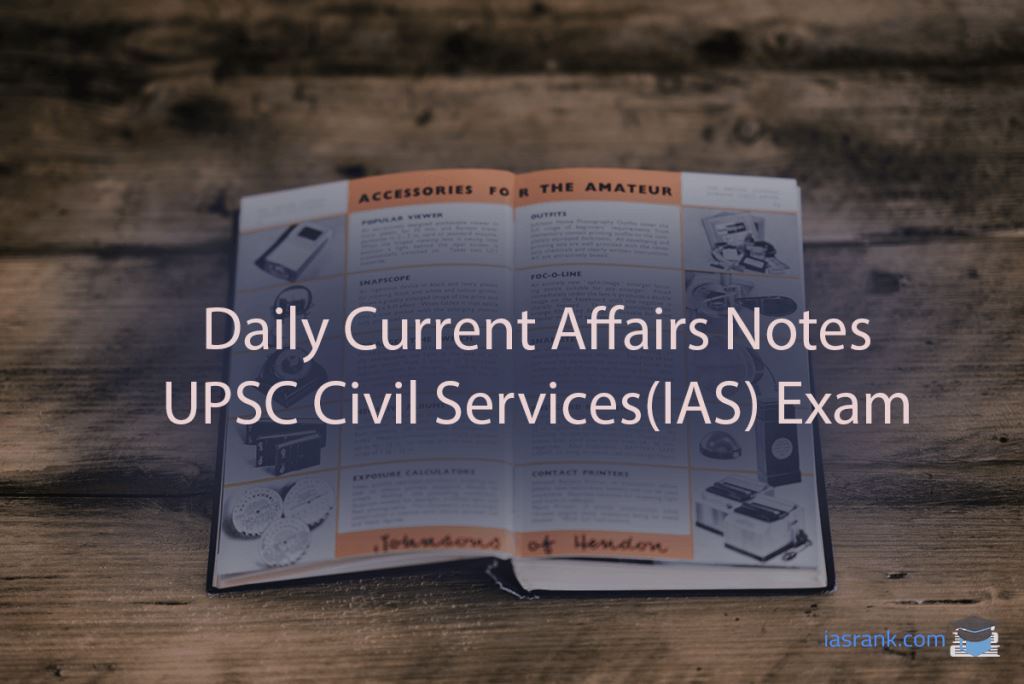 Read Current Affairs Notes of 20th January 2020 for UPSC Civil Services Prelims and Mains Examination 2020. Highlighting all National and International contemporary issues important from the exam point of view.
20 January 2020
GS-3, Prelims
Topic: General issues on Environmental ecology, Bio-diversity and Climate Change
MP focuses on reviving threatened tree species
Madhya Pradesh Forest Department planted 70 lakh saplings of threatened tree species in 2019, in order to revive biodiversity, support livelihoods and to combat climate change.
According to the India State of Forest Report, 2019, Madhya Pradesh has the largest forest cover (of 77,482.49 sq. km) in India.
Out of 216 naturally occurring tree species in the state, 32 are endangered.
Basis of identifying endangered species wasà those having less than 1% of the forest cover.
Saplings of these species were then nurtured in government-run nurseries in their local conditions.
Some of the threatened species include:

Bijaàhaving high timber and fodder value, used to cure diabetes

Tinsaàused to improve fertility in women

Dahimanàused to cure high blood pressure

The species are being revived according to the International Union for Conservation of Nature guidelines. They can withstand harsh climatic conditions.
The major reason for their endangerment was lack of awareness on the traditional importance of the species.
Now, at least 10% of all the plantations in the state will include species under threat.
GS-2, Prelims
Topic: Government policies and interventions for development in various sectors and issues arising out of their design and implementation.
Row over Bihar human chain plan
Opposition parties in Bihar commented on the human chain organised by the government as "huge waste of money".
The Bihar government has organised a human chain with an aim of spreading awareness regarding climate change, prohibition of social ills such as dowry and child marriage.
Government planned to form world's longest human chain of over 16,000 km across all districts of the state.
The government has organised similar human chains in 2017 and 2018 too.
GS-2, Prelims
Topic: India and its neighborhood- relations.
Doval, Gotabaya discuss bilateral issues
Indian National Security Advisor Ajit Doval met the Sri Lankan President Gotabaya Rajapaksa in Colombo.
Some of the key points of discussion between the two included:

Strengthening bilateral cooperation in:

Fostering of regional collaboration

Countering and preventing debt traps
GS-2, Prelims
Topic: Bilateral, regional and global groupings and agreements involving India and/or affecting India's interests.
Need FTA to spur India, EU trade: Rinkevics
On the sidelines of the Raisina Dialogue, Latvian Foreign Minister Edgars Rinkevics discussed India-EU trade with External affairs Minister S. Jaishankar.
He said that the trade cannot increase substantially until the negotiation is done between India and the EU on Bilateral Trade and Investment Agreement (BTIA).
He referred to the potential for IT companies in Latvia to outsource business to India and recruit "skilled and talented" Indian professionals.
Mr. Rinkevics was in office, when the EU-India trade negotiations that began in 2007, were suspended in 2013. Since then several attempts have been made to revive the trade talks but were unsuccessful.
Still, EU is India's largest trading partnerà $108 billion trade in goods and $42 billion in services (2018-19).
EU is also the highest source of Foreign Direct Investment (FDI) in India.
Without an investment agreement in place, several EU countries are hampered in investing in India.
FTA talks between India and the EU may be put into motion when PM Modi attends the India-EU summit in Brussels on 13th March.
GS-3, Prelims
Topic: General issues on Environmental ecology, Bio-diversity and Climate Change
Eastern Ghats: land-use policies, climate change hit endemic plant habitats
The Eastern Ghats spread acrossà Odisha, Telangana, Andhra Pradesh, Karnataka and Tamil Nadu. It is home to unique ecosystems.
It contains over 450 endemic plant species.
Still, it is one of the most exploited ecosystems of India due to:

Intensifying agricultural practices

Increasing human populationàleading to encroachments

All these above factors affect the habitat of endemic and rare, endangered and threatened (RET) speciesàleading to their loss.
The endemic species were found to be distributed in core areas of hill forests:
Whereas rare and threatened species were found not only in core areas but also on the periphery of forestà thus prone to more anthropogenic disturbances.
Ecotourism is a positive way to educate and promote conservation.
Furthermore, climate change affects the rainfall and temperature which also cause a threat to the endemic species.
There is a need for urgent conservation strategies and efforts. Boundaries of the National Parks and Sanctuaries should be redefined based on the richness of endemic and RET species.
Prelims
Topic: Current events of National and International importance
Ahead of the holiday, China gears up to contain the virus outbreak
Ahead of the Lunar New Year holidays, China will try to contain the outbreak of Coronavirus in Wuhan.
Three, out of the 17 new affected patients, are seriously ill. There are fears rising about the virus getting spread to other countries too.
The National Health Commission is working on prevention and control measures in order to tackle the epidemic.
During the Lunar New Year holidays, that will begin from next week, many of China's 1.4 billion will travel, both within and outside the country. This has raised concerns about viruses getting spread to other parts as well.
So far three cases of the virus have been found abroadàone in Japan and two in Thailandàwhich involved people from Wuhan or those who have recently visited the city.
This virus initially emerged in late December in Wuhan, as a wave of pneumonia patients.
This virus belongs to the same family as Severe Acute Respiratory Syndrome (SARS), which took around 800 lives all over the world during its 2002-03 outbreak. This SARS outbreak of 2002-03 also started in China.
China, WHO and other authorities across the world are trying to control the virus.


GS-2, Prelims
Topic: elections/ Functions and responsibilities of the Union and the States
CM launches 'Guarantee Card'
The AAP has released a shorter version of the election manifesto which they have termed as 'Guarantee Card'.
The complete manifesto is to be released in the coming 7-10 days.
The Guarantee Card contains 10 promises that will have a huge impact on the lives of Delhi residents. These are listed below:

Piped water in every house

Best education in the whole country

Cheap, accessible and better healthcare

Largest and cheap transportation

Clean and beautiful Delhi

Basic infrastructure in unauthorized colonies

Pukka house for all slum dwellers
GS-3
Topic: Conservation, environmental pollution and degradation, environmental impact assessment.
Rollback of amendments to Land Act sought
Over 100 people took out a funeral procession march in opposition of the amendments to the Punjab Land Protection Act (PLPA), 1900.
It is estimated that entire Aravali range in south Haryana (more than 1,10,000 acres) will be impacted by this amendment. It will open real estate development there which will lead to 33% of Haryana's forests.
Haryana already amounts for a very less forest cover in India- 3.62%. The national average is 20%.
Aravali forests are considered as 'green lungs' of Gurugram, Faridabad and NCR. They act as a barrier against desertification and is also an important water recharge zone.
GS-2, Prelims
Topic: Welfare schemes for vulnerable sections of the population by the Centre and States and the performance of these schemes; mechanisms, laws, institutions and Bodies constituted for the protection and betterment of these vulnerable sections.
98 Centre-approved anganwadis to start soon
98 Centre-approved anganwadis and 745 mini anganwadis will start in the state of Maharashtra.
These anganwadis centers have been approved under the National Integrated Child Development Scheme.
GS-3, Prelims
Topic: General issues on Environmental ecology, Bio-diversity and Climate Change
Lone, rare migratory bird sighted in Andhra Pradesh
A group of birdwatchers have sighted a lone endangered steppe eagle (Aquila nipalensis) in a paddy field near Vijayawada in Andhra Pradesh.
The eagle was spotted during the 'Asian Waterbird Census' which is a citizen science programme.
It is the second time that the bird has been spotted in the past two decades.
The endangered Steppe eagle is believed to be the second largest migratory bird species to India.
During winters, the eagle breeds in Russia, Kazakhstan and Mongolia.
Threats to the species are mainly due to:

Conversion of open habitat for aquaculture

Pesticides and other effluents.
GS-3, Prelims
Topic: Cottage Industries.
Khadi Utsav 2020
Khadi Utsav 2020 is a National Level Khadi and Village Industries Exhibition.
The Exhibition cum sales, starting from January 16, will continue till February 14, 2020.
It is being organised at Freedom Park, Bangalore.
Theme: We spin Employment and weave Prosperity.
GS-3, Prelims
Topic: General issues on Environmental ecology, Bio-diversity and Climate Change
146 endangered Irrawaddy dolphins sighted in Chillika
146 endangered Irrawaddy dolphins have been spotted by the Odisha Forest Department, wildlife experts and researchers in Chilika lake during the dolphin census.
Direct spotting of 146 dolphins signal to around 150-172 Irrawaddy dolphin population present in the lake.
Chilika lake has the highest single lagoon population of Irrawaddy dolphin in the world.
Last year's census accounted for presence of 151 Irrawaddy dolphins in the lake.