Read Daily Current Affairs of 24th January 2020 for UPSC Civil Services (IAS) Prelims and Mains Exam 2020.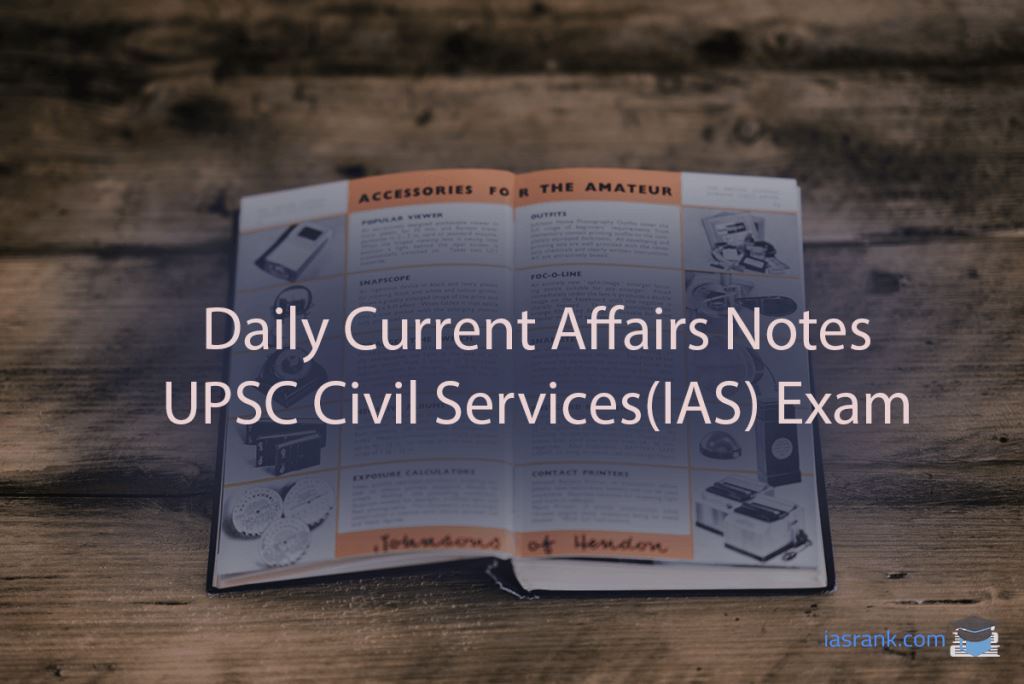 Read Current Affairs Notes of 24th January 2020 for UPSC Civil Services Prelims and Mains Examination 2020. Highlighting all National and International contemporary issues important from the exam point of view.
GS-4, Prelims
Topic: Public/Civil service values and Ethics in Public administration
India Slips two places on Corruption Index
India slipped two ranks in the Corruption Perceptions Index of 2019. Last year it was ranked at 78 and now after the drop, it stands at 80.
The Index uses a scale of 0 (highly corrupt) to 100 (very clean). The global average for 2019 is 43.
The decline in India's position is said to be because of "unfair and opaque political financing" in the country.
The Index also noticed that a majority of countries are showing little or no improvement in tackling corruption.
GS-3, Prelims
Topic: Conservation, environmental pollution and degradation, environmental impact assessment.
No effective steps are taken to check industrial pollution in Malegaon: NGT
The National Green Tribunal (NGT) said that the Malegaon administration has failed to take effective steps to control industrial pollution and ensure closure of polluting industries. It sought a report on the issue.
According to a committee formed by the NGT, it was reported that 185 out of 190 units having facilities of plastic related activities and 70 out of 125 sizing units are located in residential areas. The melting process of plastic in these industries causes air pollution.
No action has been taken to check/prevent the entry of vehicles carrying plastic waste to the Malegaon city area and unloading the same.
The targets of February 2021 and December 2021, have been set by the committee for the implementation of the following projects:

Remedial measures for identified traffic congestion hotspots

Measures for solid waste management

The tribunal has said that the time limit for solid waste and sewage management is too long and needs to be advanced, so as to make it consistent with environment norms.
Compensation needs to be assessed and speedily recovered from the polluters, on 'Polluter Pays' principle.
GS-3, Prelims
Topic: Conservation, environmental pollution and degradation, environmental impact assessment.
Rising CO2 levels may double floods, storms
According to the report, Impacts of Carbon Dioxide Emissions on Global Intense Hydro-meteorological Disasters, the risk of extreme floods or storms could double every 13 years at the rate of carbon-dioxide concentrations are building up in the atmosphere.
This could prove to be catastrophic for India.
India faces 5-10 times as many extreme disasters (defines as one that causes 100 or more fatalities and/or affects 1,000 or more people) as the average country.
GS-3, Prelims
Topic: Disaster and disaster management
Former IPS officer bags disaster mitigation award
Former IPS officer K.M. Singh has been selected for Subhash Chandra Bose Aapda Prabandhan Puraskar for their contribution in the field of disaster management.
For the institution category, the Disaster Mitigation and Management Centre, Uttarakhand has been selected.
The award is announced every year on January 23, which is celebrated as the birth anniversary of Subhash Chandra Bose.
GS-3, Prelims
Topic: Environment and Bio-diversity
New snake eel species discovered in Odisha
The ZSI (Zoological Survey of India) at Gopalpura-on-sea in Odisha has discovered a new snake eel species residing in the Bay of Bengal.
It has been named Ophichthus kaislashchandrai. It is the eighth species of the Ophichthus genus found on the Indian coast.
It is the fifth new species discovered by the Gopalpur ZSI in the last 2 years.
In 2019, the ZSI discovered the following two new species:

Gymnothorax andamanensesis
GS-2, Prelims
Topic: India and its neighborhood- relations.
Nepal invites Modi, Imran for Sagarmatha Dialogue
Nepal has invited the government heads of several countries including those of India and Pakistan to attend the Sagarmatha Dialogue.
It will be a 3-day event starting from April 2 at Kathmandu.
SAARC leaders have been invited.
The event will focus on the threat of Climate Change to the modern world.
GS-2, Prelims
Topic: India and its neighborhood- relations.
India helped Maldives tackle measles outbreak
India has helpedcthe Maldives to tackle the recent measles outbreak in the country.
The Indian embassy in Male has handed over 30,000 doses of measles and rubella (MR) vaccine to the Maldivian Health Ministry.
Maldives was declared measles-free by the WHO three years ago.
GS-2, Prelims
Topic: Important International institutions, agencies and fora-their structure, mandate. / India and its neighborhood- relations.
ICJ orders Myanmar to protect Rohingya
In the first major legal victory since being ousted from their homes in Myanmar, the Rohingya refugees cheered the ruling of the International Court of Justice (ICJ), which ordered Myanmar to take urgent measures to protect its Rohingya population from genocide.
The ruling was given unanimously by the 17-judge panel. The lawsuit was launched by Gambia accusing Myanmar of genocide against Rohingya in violation of the 1948 Genocide Convention.
Over 7,30,000 Rohingyas have fled the country after a military-led crackdown in 2017, and were forced to live in refugee camps across the border of Bangladesh.