Read Daily Current Affairs of 29th January 2020 for UPSC Civil Services (IAS) Prelims and Mains Exam 2020.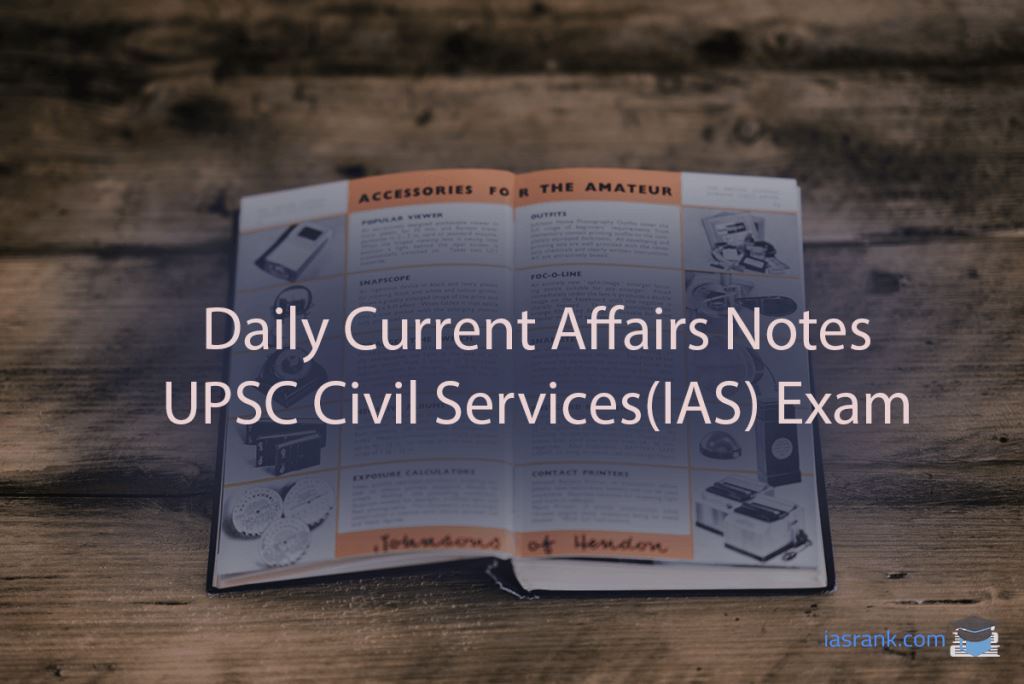 Read Current Affairs Notes of 29th January 2020 for UPSC Civil Services Prelims and Mains Examination 2020. Highlighting all National and International contemporary issues important from the exam point of view.
GS-2, Prelims
Topic: Conservation, environmental pollution and degradation, environmental impact assessment.
African cheetahs to prowl Indian forests
The Supreme Court has lifted its seven-year stay on a proposal to introduce African cheetahs from Namibia in Indian forest on an experimental basis.
This plan was introduced to revive the Indian cheetah population.
When the plan to introduce African cheetahs into the Palpur Kuno sanctuary in Madhya Pradesh was proposed in 2012, the Court said that the cheetahs may come in conflict with a parallel project of reintroducing lions into the same sanctuary.
The court was also concerned whether the cheetahs would find the sanctuary favourable as far as the abundance of prey is concerned.
Now the National Tiger Conservation Authority (NCTA) has asked the SC to take a plunge regarding this plan and SC had now allowed the introduction of cheetahs with right precautions.
It created a three-member committee to monitor the progress and submit a report every four months.
GS-2, Prelims
Topic: Conservation, environmental pollution and degradation, environmental impact assessment.
E-commerce giants need to set up a system of collecting plastic waste
Under Plastic Waste Management Rules, 2016, e-commerce giants Amazon and Flipkart need to fulfil their extended producer responsibility.
The Central Pollution Control Board (CPCB) has told them that they need to establish a system for collecting back the plastic waste generated by packaging of their products.
As per the provision of Plastic Waste Management Rules, 2016, "Primary responsibility for collection of used multi-layered plastic sachet or pouches or packaging is of producers, importers and brand owners who introduce the products in the market."
Amazon has replied by saying:

It has been working relentlessly to reduce the use of single-use plastic in its supply chain.

Is committed to eliminating its usage in their buildings in the country by June 2020.

Flipkart replied by saying:

It is constantly striving to find alternatives to plastic packaging which are eco-friendly and also keeps the product safe during transit.
GS-2, Prelims
Topic: India and its neighbourhood- relations/ Important International institutions, agencies and fora-their structure, mandate.
Punjab CM wants Centre to take up locust issue with Pakistan
The Punjab government has urged that the issue of locust should be brought up with Pakistan through Union Ministry of External Affairs and the Indian High Commission in Islamabad.
The pests have caused great damage of crops in Rajasthan and have now entered into southern Punjab.
Punjab said that Rajasthan government is taking required steps from its side but best method would be to control breeding ground of the locusts, which lies in Pakistan's Thar.
The Pakistan government should be asked to completely sanitise the breeding areas of the locusts.
The Food and Agriculture Organisation of the United Nations, which is mandated to control locusts internationally, should also be approached.
GS-3, Prelims
Topic: General issues on Environmental ecology, Bio-diversity and Climate Change – that do not require subject specialization.
10 more wetlands in India declared as Ramsar sites
With 10 new wetlands being protected under Ramsar convention the total count of Indian sites has reached at 37.
The Ramsar sites are protected under strict guidelines. It is one of the oldest inter-government accords. The Convention was signed in 1971 in the Iranian city of Ramsar. It is also known as the Convention on Wetlands.
The 10 new added sites are:

Nandur Madhameshwar-Maharashtra- first from the state

Beas Conservation Reserve- Punjab
GS-1, GS-2, Prelims
Topic: Indian Heritage and Culture/international relations
India, France to partner on museums
India and France will work together in fields of:

The exhibition, Research and festivals.

A joint working group will be established for this purpose. Both the countries agreed to formalize partnership to collaborate on the above mentioned fields.
The first meeting of the joint working group will be held before April 30.
The group would explore the partnership between the National Museum in Delhi and a French counterpart (to be designated by the French government later).
GS-3, Prelims
Topic: Economic and Social Development-Sustainable Development, Poverty, Inclusion, Demographics, Social Sector Initiatives, etc.
The government should make labour codes a reality by April, says ISF
The apex body representing the staffing/temping industry in India, the Indian Staffing Federation (ISF), has asked the government to make labour codes a reality and there is a need to simplify, rationalize and digitize labour codes to make them comprehensive, effective, easy to comply.
Other suggestions include:

Creating more jobs in Tier II and III cities, semi-urban areasà will put more money in the hands of people and will improve consumption

Ensure optimum utilization of budgetary allocation towards infrastructure and development

Necessary budgeting and policy initiatives

This will help in improve the country's growth trajectory and unshackle the full potential of the country's high employment sectors like telecom, e-com and automobiles.