Read Daily Current Affairs of 27th February 2020 for UPSC Civil Services (IAS) Prelims and Mains Exam 2020.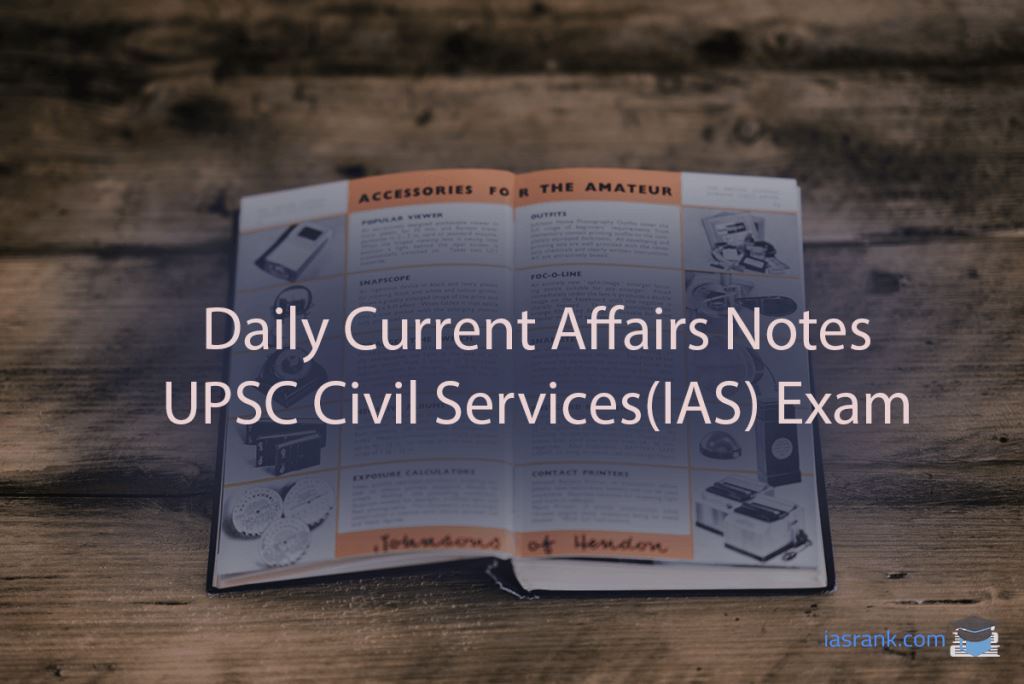 Read Current Affairs Notes of 27th February 2020 for UPSC Civil Services Prelims and Mains Examination 2020. Highlighting all National and International contemporary issues important from the exam point of view.
GS-1, Prelims
Topic: Post-independence consolidation and reorganization within the country.
Assam at the centre of fresh border row
Assam is at the centre of fresh border row in the northeastern region.
Mizoram government has sought revision of boundary with Assam, based on the Bengal Eastern Frontier Regulation (BEFR), 1873 and the Inner Line of the Lushai Hills Notification of 1993.
This followed Assam police's alleged bid to pitch a camp at Umlawi in West Khasi Hills of Meghalaya and a Nagaland group's reported attempt to grab land in eastern Assam's Jorhat district.
The BEFR allows Arunachal Pradesh, Manipur, Mizoram and Nagaland not to let non-resident Indians in without an inner-line permit for a temporary stay.
Mizoram was Lushai Hills district of Assam before being made a Union Territory in 1972 and a State in 1987.
Mizoram shares a 123-km border with southern Assam and has been claiming a 509 square mile stretch "occupied" by neighbouring State.
GS-1, Prelims
Topic: History of India and Indian National Movement.
152 households being shifted in Rakhigarhi
As part of encroachment removal at the Rakhigarhi heritage site, 152 households are being shifted to flats.
Many villagers say that this is not enough as they aren't providing adequate space, "if they are taking away a 500 square-yard house, they are giving us a 100 square-yard flat in return. And what about the space to dry cow dung cakes? There is no talk of alternative land for that".
The Union Budget announced the development of Harrapan site at Hisar's Rakhigarhi village, into an iconic site and develop it into a National Museum.
Rakhigarhi is the largest Harappan site in Indian sub-continent→ spread across 500 hectares.
The development of the site will help prevent encroachment by the locals, as Rakhigarhi village is settled exactly on top of the site.
Developing Rakhigarhi as an iconic site would increase tourism→create jobs for the locals.
Other than Rakhigarhi following sites will also be developed into national museums:

Hastinapur in Uttar Pradesh

Adichanallur in Tamil Nadu
GS-2, Prelims
Topic: Current events of national and international importance.
J&K an integral part, India tells Human Rights Council
India told the Human Rights Council that Jammu and Kashmir will remain an integral part of India forever and the world should act against countries that shelter terrorism.
Vikas Swarup, Secretary of Ministry of External Affairs, while speaking at the 43rd Session of the Human Rights Council highlighted India's heritage of non-violence and claimed that India believes in inclusive development.
He added that transformative changes in Jammu and Kashmir wrought by our Parliament last August were meant to strengthen integration of the State →to provide fullest play to representative government from the grassroots level upward.
Mr. Swarup also viewed that though Pakistan has been vocal about India ending Jammu and Kashmir's special status and have raised the issue at multiple platforms but cross-border terrorism from Pakistan poses a grave challenge to India, which Pakistan doesn't see.
On this situation he paraphrased the poet Robert Burns, "someone should give them the power to see themselves as others see them."
GS-3, Prelims
Topic: Challenges to internal security through communication networks, role of media and social networking sites in internal security challenges, basics of cybersecurity; money-laundering and its prevention.
Centre set to revamp IT Act
The government will soon start the process of revamping the 20-year old Information Technology Act, 2000.
The aim of revamping is to bring it in tune with the technological advancements with a focus on stronger framework to deal with cybercrimes.
An expert committee will be set up for discussion on the new IT Act.
IT Minister said that the Act has become old and several changes have come up in the technology and challenges too have changed vastly.
One of the major challenges is to handle the scale of users that consume technology.
In India, technology has become the centre for digital payment and delivery of services such as GST and UPI→these platforms were not even contemplated when the IT Act came into being.
Minister also said that the new Act will also take into account Supreme C
ourt's judgement on privacy.
The old Act do not adequately respond to cyber issues. The government may include a separate chapter on cyber issues in the revamped Act.
GS-3, Prelims
Topic: Government policies and interventions for development in various sectors and issues arising out of their design and implementation.
Cabinet gives clearance for Technical Textiles Mission
The Cabinet Committee on Economic Affairs (CCEA) has approved the setting up of a National Technical Textiles Mission at a total cost of Rs. 1,480 Crore.
The aim of the mission is to position the country as a global leader in technical textiles and increase the use of technical textiles in the domestic market.
The mission will be implemented for four years from 2020-2021.
It will have four components:

Research and development and innovation

Promotion and development of market for technical textiles

Education, training and skill development

Earlier it was in news that, under the Union Ministry of Textiles' "Mega Textile Park Scheme", Tamil Nadu is likely to get:

One mega textile park →

for which minimum 1,000-acre land should be provided by the State

A technology park for textiles machinery →

aim is to make textile machinery production indigenous by developing technology in-house or bringing in technology from other countries.

infrastructure for the project is to be developed in Surat and Coimbatore

this will be a smaller park

A technical textiles park →

Salem was likely to be the choice

A technology research centre →

It is to be probably set up in Coimbatore

The efforts of Union Textile Ministry to help Indian textile and clothing sector have been welcomed by the Confederation of Indian Textile Industry.