Read Daily Current Affairs of 9th January 2020 for UPSC Civil Services (IAS) Prelims and Mains Exam 2020.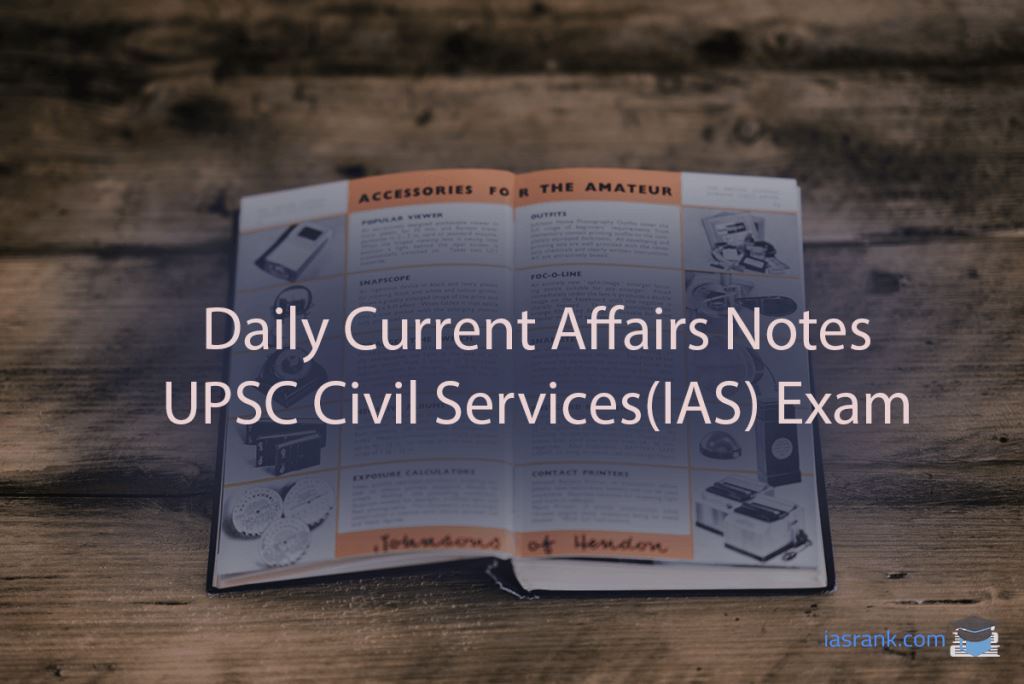 Read Current Affairs Notes of 9th January 2020 for UPSC Civil Services Prelims and Mains Examination 2020. Highlighting all National and International contemporary issues important from the exam point of view.
Prelims, GS2, GS3
Topic: Statutory, regulatory and various quasi-judicial bodies/ Government policies and interventions for development in various sectors and issues arising out of their design and implementation.
Mindset to blame for poor response to NPS
What is the news?
About 7000 corporates in India are registered under the Pension Fund Regulatory and Development Authority (PFRDA), but only 10 lakh employees, which are only 2-4% of these 7000 corporates, are covered under the National Pension System (NPS).
It is the mindset of the people which is the major impediment.
Additional Information:
What is PFRDA?
Pension Fund Regulatory and Development Authority (PFRDA) is a statutory body that works as a pension regulator of India.
It was established by the Government of India on 23 August 2003 and was authorized by the Ministry of Finance, Department of Financial Services.
The PFDRA, which is currently in the process of conducting pension awareness campaigns across the country, has the mandate to add five lakh new NPS subscribers and 75 lakh Atal Pension Yojana (APY) subscribers by March 2020.
What is the National Pension System (NPS)?
The National Pension System (NPS) is a voluntary defined contribution pension system in India. National Pension System, like PPF and EPS is an EEE instrument in India where the entire corpus escapes tax at maturity and the entire pension withdrawal amount is tax-free.
The scheme was initially designed for government employees only, later it was opened to all citizens of India between the age of 18 and 60.
It is administered by PFDRA.
What is Atal Pension Yojana (APY)?
Atal Pension Yojana (APY) is a government-backed pension scheme in India, primarily targeted at the unorganized sector. It was launched with effect from 1st June 2015.
It replaces the Swavalamban Yojana/NPS Lite scheme.
All bank account holders who are not members of any statutory social security scheme and are between the ages of 18 and 40 years are eligible for the scheme.
The contribution period is 20 years (minimum) or more and there are fixed pension benefits for subscribers ranging from Rs. 1000 to Rs. 5000.
Contributions made under the scheme are eligible for tax benefits similar to the National Pension System (NPS).
Prelims,GS3
AASU to protest if PM visits the state
Topic: Government policies and interventions for development in various sectors
What is the news?
PM is to visit Assam for the Khelo India Games 2020 which are scheduled to be organized from January 20.
Khelo India
It was started in 2018 as a national programme for the development of sports.
Talent is searched throughout India and selected sportspersons are provided a grant of financial assistance of Rs. 5 lakh per annum for a period of 8 years.
Prelims, GS2,GS3,GS4
'It is up to states to provide 10% quota'
Topic: Indian Constitution
What is the news?
The Centre has informed the supreme court that it is the state's wish whether to provide reservation to the economically weaker section in appointment to State government jobs and admission to State government educational institutions.
Centre responded to a Writ petition complaining that the economic reservation law was not being implemented in Tamil Nadu and Karnataka.
What is EWS reservation?
The Union Government if India tabled the Constitution (103rd Amendment) Bill, 2019 which provided 10% additional Quota for the EWS students amongst the Unreserved or General category students.
EWS stands for the Economically weaker section.
Following is the eligibility for being EWS:
Family income less than 8 lakh rupees per annum
Agricultural land owned by family less than 5 acres
Residential flat less than an area of 1000sq.ft
Residential plot owned by family be less than 100 sq. yards in notified municipalities and less than 200 sq. yards in places other than in notified municipalities.
People belonging to EWS since 1st February 2019 now get 10% reservation in education and government jobs in India.
State governments are free to make changes in eligibility for state government job and state government educational institutions.
Prelims/Miscellaneous
Tamil Nadu CM defends action taken on 'Kolam' issue
Why in news?
Some people in Chennai drew Kolam with anti-CAA/NRC messages. Tamil Nadu CM has said action will be taken against them.
What is Kolam?
It is a form of drawing that is drawn by using rice flour, chalk, chalk powder or rock powder, often using naturally or synthetically colored powders.
It is made in Sri Lanka and Indian states of Tamil Nadu, Karnataka, Telangana, Andhra Pradesh, Kerala and some parts of Goa, Maharashtra as well as Indonesia, Malaysia, Thailand and a few other Asian countries.
A Kolam is a geometrical line drawing composed of curved loops, drawn around a grid pattern of dots. It is regionally known by different names and are generally drawn on special occasions.
Reaction to Operation Twist as expected
Topic: Economics, GS-3
What is Operation Twist?
The simultaneous buy-sell of government bonds is known as Operation Twist. It is conducted to bring down long-term interest rates while allowing short term rates to inch-up.
Why in news?
India has employed the method in order to address liquidity. The RBI has carried out three rounds of simultaneous bond buy-and-sell via open market operations. RBI has said that the program was "on expected lines".
Liquidity: Liquidity refers to how easily an asset can be converted into cash.
What happened to JNU is appalling, says Amartya Sen
Topic: Economics
What is the news?
Amartya Sen has termed the violence at Jawaharlal Nehru University (JNU) as "appalling" and condemned the delay by the university administration and the police in bringing the situation under control.
Amartya Sen
He is an Indian economist who in 1998 received Nobel Prize in Economic Sciences for his contributions to welfare economics and social choice theory and for his interest in the problems of society's poorest members.
His famous works include:
Collective Choice and Social Welfare (1970)
Poverty and Famines: An Essay on Entitlement and Deprivation (1981)
Development as Freedom (1999)
Rationality and Freedom (2002)
Identity and Violence: The Illusion of Destiny (2006)
The Idea of Justice (2009)