Read Daily Current Affairs of 29th February 2020 for UPSC Civil Services (IAS) Prelims and Mains Exam 2020.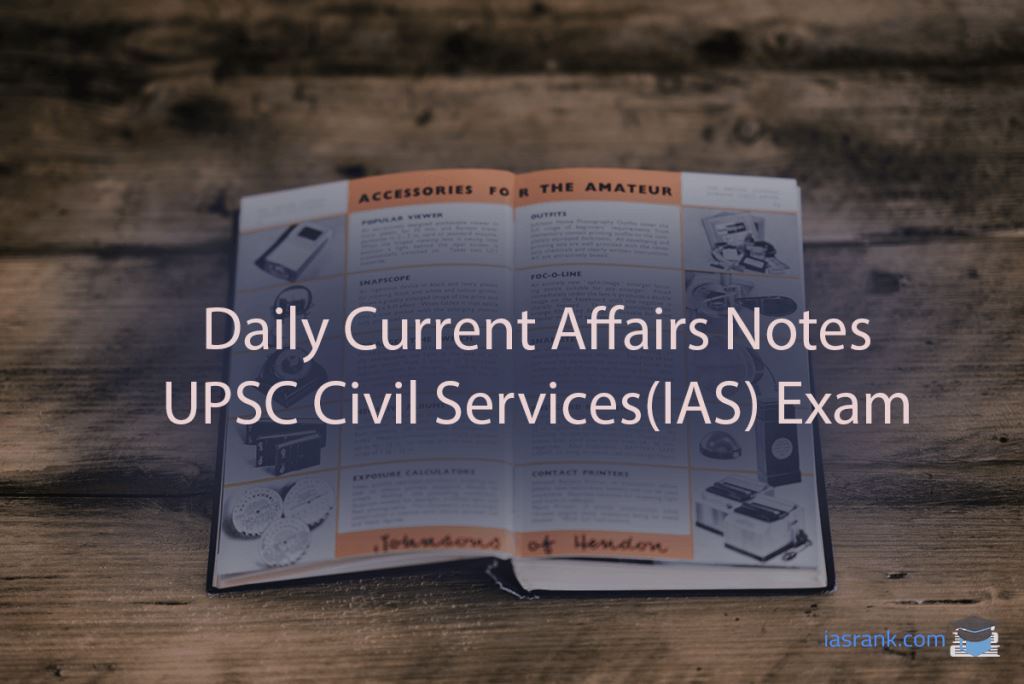 Read Current Affairs Notes of 29th February 2020 for UPSC Civil Services Prelims and Mains Examination 2020. Highlighting all National and International contemporary issues important from the exam point of view.
GS-2, Prelims
Topic: Statutory, regulatory and various quasi-judicial bodies.
Karnataka to allocate funds for Kalasa-Banduri project in Budget
A day after the Centre's notification of the Mahadayi inter-State water dispute tribunal award, Karnataka Chief Minister said that the State government would expedite the Kalasa-Banduri drinking water and hydropower projects in the region.
The CM said that funds would be allocated in the 2020-21 Budget to resume the project on Mahadayi river's Kalasa-Banduri tributaries in the northern districts in the State.
The Chief Minister said the notification of the Union Water Resources Ministry would enable the State to complete the project for supplying drinking water to four drought-prone districts.
SC passed an interim order allowing an application by the State of Karnataka to notify Mahadayi's Water Dispute Tribunal's award.
Implementation of the award will be subject to final judgement of the Supreme Court in the civil appeals filed by Karnataka, Goa and Maharashtra, challenging the allocation of water from the Mahadayi river among them.
The plea made by Karnataka to publish the August 2018 tribunal award in the official gazette of India, has not been opposed by either of the two States – Goa and Maharashtra.
Tribunal allocated water from the Mahadayi river basin to the three States as follows:

Karnataka→ 13.42 TMC water

Maharashtra→ 1.33 TMC water

The Mahadayi Water Disputes Tribunal was formed in 2010.
Karnataka had petitioned the tribunal seeking the release of 7.56 TMC water for the Kalasa-Banduri Nala (diversion) project→the project will utilize water form the inter-state Mahadayi river.
The project is being undertaken by Karnataka to improve drinking water supply in twin cities of Hubballi-Dharwad and the districts of Belagavi and Gadag.
GS-1, Prelims
Topic: Indian and World Geography-Physical, Social, Economic Geography of India and the World.
Summer to be hotter than usual, says IMD
According to a forecast of Indian Meteorological Department (IMD), summer months from March to May are poised to be hotter than normal.
The averaged temperatures during March-May are likely to be at least half a degree hotter than normal over northwest, west and central India and some parts of south India.
The season averaged maximum temperature is likely to be warmer than normal in Himachal Pradesh, Uttarakhand, West Rajasthan and Arunachal Pradesh.
Above normal heatwave conditions are also likely in the core heat wave zone during the season (March-May).
The core heatwave zone covers the States of:

Punjab, Himachal Pradesh, Delhi, Uttarakhand, Haryana, Rajasthan, Uttar Pradesh, Gujarat, Madhya Pradesh, Bihar, Chhattisgarh, Jharkhand, West Bengal, Odisha, Telangana, Parts of Maharashtra and coastal Andhra Pradesh.

According to experts, hot summer is key to timely monsoon.
The southwest monsoon in 2019 (June to September) delivered rainfall 10% above average in the country → the highest in 25 years.
In 1994, the rainfall was 110% during the June-September period. Before that, over 10% above average rainfall was witnessed in 1990 (119%).
GS-3, Prelims
Topic: Conservation, environmental pollution and degradation, environmental impact assessment.
Delhi water fails to clear ISO norms
The Bureau of Indian Standards (BIS) informed the Supreme Court that none of the drinking water samples randomly collected from across Delhi conforms to the ISO standards of purity.
Out of a total of 11 domestic piped drinking water samples, one sample was collected from Union Consumer Affairs Minister's house → that too failed on parameters of odour and aluminium and coliform contamination.
All drinking water samples failed in one or more requirements as per IS 10500:2012 [specification for drinking water].
The Supreme Court had on January 13 ordered the Central Pollution Control Board and the BIS to conduct a random check of water quality in Delhi and submit a report in a month.
The court also asked the BIS to suggest ways to improve water purity.
Coliform contamination leads to consumers facing dangerous gastrointestinal diseases like dysentery.
GS-2, Prelims
Topic: Bilateral, regional and global groupings and agreements involving India and/or affecting India's interests.
India to attend U.S.-Taliban peace deal ceremony
India accepted the invitation to witness the signing of the U.S.-Taliban peace deal in Doha.
India will be represented by India's Ambassador to Qatar → P. Kumaran.
The event is to be hosted by the Government of Qatar.
Foreign Secretary of India Harsh Vardhan Shringla also met the Acting Foreign Minister of Afghanistan Haroon Chakhansuri in Kabul and conveyed India's support for the people of Afghanistan in their pursuit for sustainable peace, security and development.
Both of them reviewed and positively assessed developments in bilateral strategic partnership.
GS-3, Prelims
Topic: Indian Economy and issues relating to planning, mobilization, of resources, growth, development and employment.
Core sector grows 2.2% as power output picks up
Due to expansion in the production of coal, refinery products and electricity, eight core industries recorded a 2.2% growth in January.
Infrastructure sector expanded by 1.5% in January 2019.
The production of coal, refinery products and electricity grew by 8%, 1.9% and 2.8% respectively.
Crude oil, natural gas and fertilizers sector recorded a negative growth during the same time period.
During the April-January period, core industries growth slowed down to 0.6% against 4.4% in the year-ago period.
The eight-core sectors recorded negative growth from August 2019 to November 2019.