Read Daily Current Affairs of 28th February 2020 for UPSC Civil Services (IAS) Prelims and Mains Exam 2020.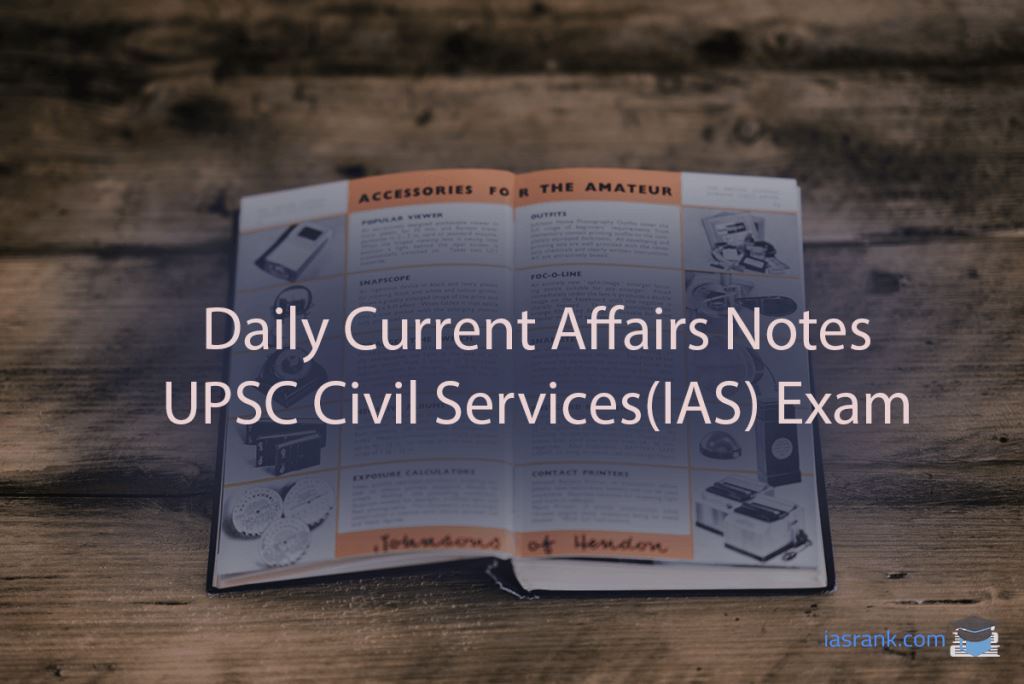 Read Current Affairs Notes of 28th February 2020 for UPSC Civil Services Prelims and Mains Examination 2020. Highlighting all National and International contemporary issues important from the exam point of view.
28 February 2020
GS-3, Prelims
Topic: Conservation, environmental pollution and degradation, environmental impact assessment.
U.P. pollution control body pulled up for Ganga's plight
The Central Pollution Control Board (CPCB) has pulled up the Uttar Pradesh Pollution Control Board (UPPCB) for its inability to prevent drains in Kanpur from polluting the Ganga.
Some of these drains were tapped under the Namami Ganga Programme's cleaning works.
The CPCB and UPPCB had bee jointly monitoring 24 drains since March 2019 à 2 in Unnao and 22 in Kanpur.
These 24 drains revealed "high colour" from chemical effluents or Biochemical Oxygen Demand and Dissolved Oxygen à an indicator of microbial presence.
So, these drains were to be cleaned and errant municipal bodies or industrial units were to be fined or face shutdowns.
The industries which were marked out and monitored for effluent load were from the following sectors:
The CPCB has ordered the UPPCB to expedite surveillance of tanneries responsible for discharge directly into Ganga.
Among all the cities of Uttar Pradesh, Kanpur contributes the highest pollution load and accounts for 75% pf pollution load in Ganga.
Prelims
Topic: Current events of national and international importance.
India evacuates 112 people from China, 124 from Japan
India evacuated its nationals from Wuhan and brought back those who were quarantined on board the Diamond Princess cruise ship docked off Yokohama in Japan amid the COVID-19 outbreak.
A civilian aircraft evacuated 119 Indian nationals and five foreign nationals à two from Sri Lanka and one each from Nepal, South Africa and Peru.
All the evacuees will undergo a 14-day quarantine at the facility set up by the Army in Manesar.
Mr. Jaishankar thanked Air India and also announced that an Indian Air Force C-17 aircraft brought back 76 nationals and 36 foreign nationals from Wuhan after delivering 15 tonnes of medical cargo to the Chinese authorities.
India's restrictions on all incoming civilian flights from Tehran because of the COVID-19 outbreak has prompted widespread cancellation of tickets.
Indians in Iran want to return home as soon as possible as there is no quarantine procedures in place in Iran.
GS-3, Prelims
Topic: India and its neighbourhood- relations.
India to carry out projects in Rakhine
India will carry out some more development projects in Rakhine province of Myanmar, which is considered as the homeland of the Rohingya community.
The decision was taken during the state visit of President U Win Myint of Myanmar. He is paying a four-day visit from February 26 to 29.
As part of the plan for development in Rakhine, both the sides agreed to expedite 12 projects in Rakhine under the second phase of the Rakhine State Development Programme as part of the Mekong-Ganga Cooperation mechanism.
Rakhine was in news because of Myanmar's military campaign against the Rohingya who were forced to live in refugee camps in Bangladesh.
Main purpose of India's developmental work is, creating hospitable conditions for the Rohingya community.
GS-2, Prelims
Topic: Bilateral, regional and global groupings and agreements involving India and/or affecting India's interests.
Lockheed to deliver six MH-60R copters in 2021
Lockheed Martin will deliver six MH-60R Multi-Role Helicopters (MRH) to the Navy in 2021 and the order will be completed by 2025.
The deal is worth around $2.2 billion.
Navy said in a statement that as envisioned in the 'Capability Based Performance Plan', these helicopters were being procured under the 'Buy (Global)' Category through the Foreign Military Sales route of the U.S.
The delivery of helicopters is planned in early 2021 and comes at a time when the Indian Ocean Region is witnessing increasing security threat due to proliferation of submarines.
The new helicopters will replace the Sea King 42/42A helicopters (already decommissioned in 1990s).
They are envisaged to operate from frontline ships and aircraft carriers providing them flexibility of operation, enhanced surveillance and attacking capability.
Prelims
Topic: Current events of national and international importance.
Toll rises to 38, Delhi limps to normalcy
Death toll in the violence that rocked north-east Delhi rose to 38, with 11 more persons succumbing to injuries in various hospitals.
The national capital was however spared any major clashes due to shifting focus to investigation, relief and rehabilitation.
48 FIRs have been registered, 514 suspects arrested and detained for questioning so far.
Special teams also carried out raids in the Delhi-National Capital Region to arrest rioters.
Delhi government announced Rs 10 lakh to families of those killed in the violence.
Under the Farishtey scheme, the government will also pay for the treatment of those injured at private hospitals.
Prohibitory orders under Section 144 would be relaxed for 10 hours today as no major incident had been reported over 36 hours.