Read Daily Current Affairs of 28th January 2020 for UPSC Civil Services (IAS) Prelims and Mains Exam 2020.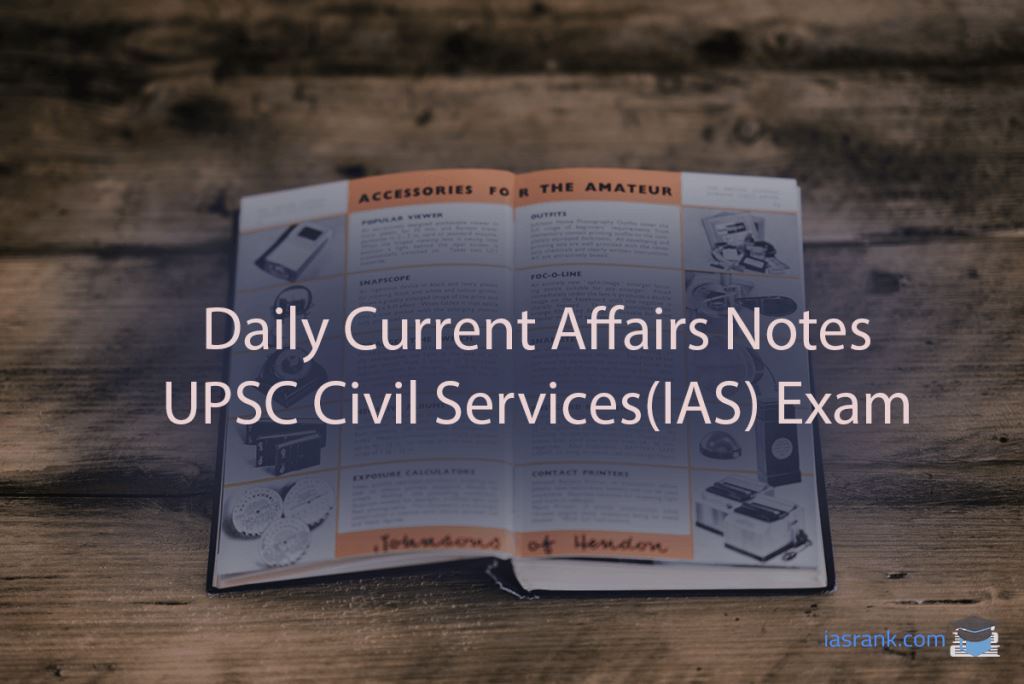 Read Current Affairs Notes of 28th January 2020 for UPSC Civil Services Prelims and Mains Examination 2020. Highlighting all National and International contemporary issues important from the exam point of view.
GS-3, Prelims
Topic: Indian Economy and issues relating to planning, mobilization, of resources, growth, development and employment.
Govt sweetens Air India offer puts 100% stake on the table
In its second attempt to privatise Air India, the Centre has presented a new deal. It comprises of:

100% stake in Air India (AI), 100% stake in Air India Express Limited (AIXL), 50% of all government's stake in AISATS.

146 aircraft, 56% of which are owned by it, rest are on lease.

Brand logosà Maharaja, Flying Swan and Sun

Waiver of debt of Rs 40,000 crore.

Any private or public limited company, a corporate body and a fund with a net value of Rs 3,500 crore will be eligible to bid.
The Last date for submitting the interest in the deal is March 17 and the outcome of this round will be known by March 31.
After the first round, two months will be given to qualified bidders for submitting the financial bids.
GS-2, Prelims
Topic: Development processes and the development industry —the role of NGOs, SHGs, various groups and associations, donors, charities, institutional and other stakeholders.
Call for ban on surrogate tobacco advertising
The Rajasthan state assembly passed the Cigarettes and Other Tobacco Products Amendment Bill on August 2, 2019, which:

Brought hookah bars within the ambit of the Act of 2003, which regulates the trade, production and supply of tobacco products.

Prohibits the opening and running of hookah bars in Rajasthan.

The state government has also put a ban last year on e-cigarettes and prohibited the sale of 'paan masala' containing nicotine, magnesium and mineral oil.
Several tobacco control programs have been started by the State and these were included among the best initiatives in the country, for which presentation was made at a national summit in Gandhinagar, Gujarat, last year.
After that, voluntary groups in Rajasthan, working for tobacco control, have called for a ban on surrogate advertising of tobacco products.
They said that this "catch them young" tactics are used by the tobacco industry to attract new customers.
They argued that techniques of surrogate advertising use indirect advertising to deceive the law enforcement agenciesà like:

the display of hoardings and billboards with the pictures of mouth fresheners, 'elaichi' and paan masala at prominent places in the city

endorsements by film actors and celebrities, indirectly promoting cigarettes, tobacco, and alcohol in the guise of other products.

The Tobacco industries are the single largest barrier to the effective implementation of tobacco control policies.
The voluntary organisations also made a reference to the WHO's Framework on Tobacco Control, to which India is a partyà it says that there should not be any interference and influence of the tobacco industry on public health policies of the State.
They want the tobacco industry to be held responsible for the tobacco menace in Rajasthan, where the largest number of people had died due to mouth cancer and 24.7% of adults are tobacco users (Global Adult Tobacco Survey, 2016-17).
The groups have called for enforcement of a vendor licensing mechanism and regulation of the sale of tobacco products. Only this can save healthcare costs, increase labour productivity and reduce human suffering.
GS-2, Prelims
Topic: Parliament and State legislatures—structure, functioning, the conduct of business, powers & privileges and issues arising out of these.
A.P. Assembly adopts resolution to abolish Legislative Council
The Andhra Pradesh Assembly adopted a statutory resolution to abolish the Legislative Council with 133 members.
The Government had moved the resolution as per Article 169 (1) of the Indian constitution.
The arguments put forward by the government for the Council's abolition were:

It had lost its 'public utility'à no point in spending a huge sum (Rs 60 crore per year) if it comes in way of important government business.

Obstructed decentralisation and Inclusive Development of All Regions.

Only six states have Legislative Councilsà government is against allowing the Legislative Council in A.P. to function with a political agenda.
GS-1, GS-2, Prelims
Topic: Social empowerment, communalism, regionalism & secularism/Government policies and interventions for development in various sectors and issues arising out of their design and implementation.
Centre, Assam govt. sign accord with Bodo groups to redraw, rename territory
An agreement to redraw and rename the Bodoland Territorial Area District (BTAD), was signed by Centre, Assam government and Bodo groups on January 27.
Currently, the BTAD comprises of four districts:
As per the Accord, villages dominated by Bodos will be included in the BTAD and villages with non-Bodo population will be excluded.
There has been no agreement yet on the issue of "citizenship or work permit" for non-domiciles.
Bodos living in the hills will be granted Scheduled Hill Tribe status.
The BTAD is to be renamed as Bodoland Territorial Region.
GS-2, Prelims
Topic: Government policies and interventions for development in various sectors and issues arising out of their design and implementation.
Tribals in Odisha protest over the rejection of applications for forest rights
Over 2,000 tribals began an indefinite dharna in front of Ganjam District Collector's office, alleging arbitrary cancellation of applications for land rights under the Forest Rights Act by the administration.
They alleged that out of total rejected applications, highest was from Ganjam district.
Protestors were united by four organisations:

All India Kisan Mazdoor Sabha

Ganjam Zilla Adivasi Manch

Ganjam Zilla Gramsabha Samukhya

Protestors have a list of nine demands which are mostly related to land rights of forest dwellers.