Read Daily Current Affairs of 12th January 2020 for UPSC Civil Services (IAS) Prelims and Mains Exam 2020.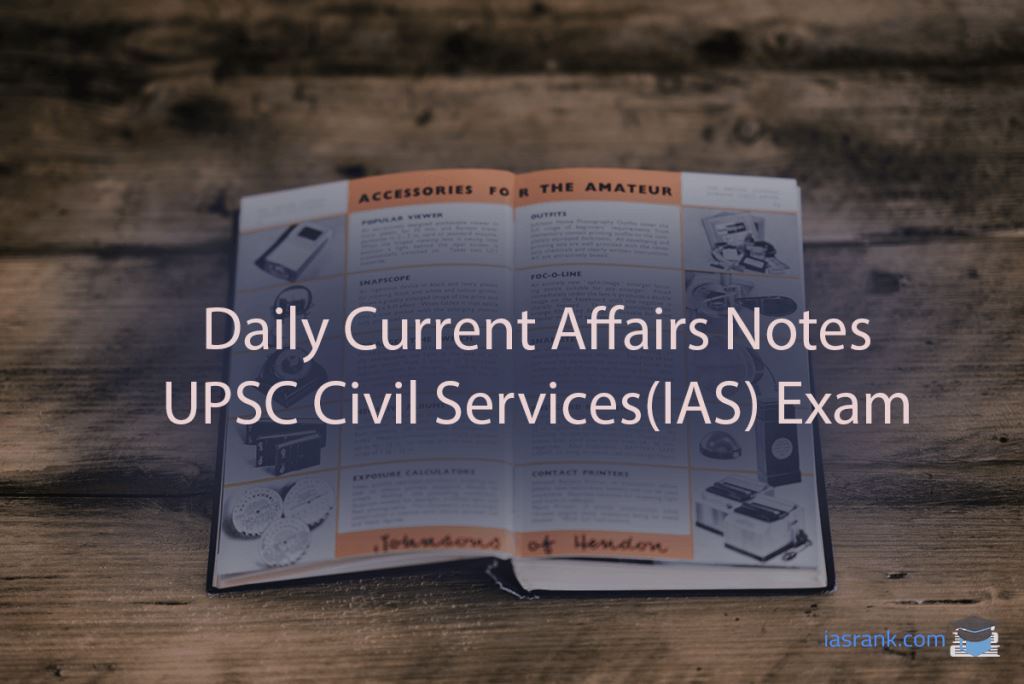 Read Current Affairs Notes of 12th January 2020 for UPSC Civil Services Prelims and Mains Examination 2020. Highlighting all National and International contemporary issues important from the exam point of view.
GS-2, GS-3
Topic: Government policies and interventions for development in various sectors and issues arising out of their design and implementation. /Land reforms in India.
Farmers suspend stir over land acquisition
What is the news?
Farmers at Nindar village, near Jaipur have suspended their four-day long unusual agitation, during which they took "Zameen Samadhi" with the demand for fair compensation for their land acquired for a housing project by the Jaipur Development Authority (JDA).
They demanded that the government give compensation as per the Right to Fair Compensation and Transparency in Land Acquisition, Rehabilitation and Resettlement Act which came into force on January 1, 2014.
Right to Fair Compensation and Transparency in Land Acquisition, Rehabilitation and Resettlement Act, 2013
The Right to Fair Compensation and Transparency in Land Acquisition, Rehabilitation and Resettlement Act, 2013 is an Act of Indian Parliament that regulates the land acquisition and lays down the procedure and rules for granting compensation, rehabilitation and resettlement to the affected persons in India.
The act commenced on 1 January 2014.
The bill was given assent on 27 September 2013.
It applies on the whole of India.
GS-3, Prelims
Topic: Biodiversity
All set for waterbird census in Andhra Pradesh
What is the news?
The annual bird census will commence in the Corniga Wildlife Sanctuary (CWS) and surrounding wetlands in the Godavari mangrove cover on the east coast.
The wildlife management authorities are all set to carry out the two-day census of the avian species, assessing the threats and challenges being faced by the water birds.
Indian Skimmer, a waterbird species, has started visiting the Godavari mangroves for three years.
The conservation status of the Indian Skimmer is 'vulnerable', according to the Red List of the International Union for Conservation of Nature and Natural Resources (IUCN).
IUCN Red List
The Red List of Threatened Species was founded in 1964.
It is the world's most comprehensive inventory of the global conservation status of biological species.
It uses a set of criteria to evaluate the extinction risk of thousands of species and subspecies.
It is headquartered in the United Kingdom.
Its parent organization is the International Union for Conservation of Nature (IUCN).
According to their data, more than 30,000 species are threatened with extinction, which is 27% of all assessed species.
GS-2, Prelims
Topic: Economic and Social Development-Sustainable Development, Poverty, Inclusion, Demographics, Social Sector Initiatives, etc.
Centre gets a notice on plea for population control
What is the news?
The Supreme Court sought a response from the government to a petition for population control measures, including a two-child norm.
The petition said, "Population explosion is more dangerous than bomb explosion".
This PIL has been earlier dismissed by Delhi High Court.
The petitioner contended that the HC had failed to appreciate that the right to clean air, drinking water, health, peaceful sleep, shelter, livelihood, and education, which are guaranteed under Articles 21 and 21A of the Constitution, could not be fully secured without controlling the population.
GS-2
Topic: Issues relating to the development and management of Social Sector/Services relating to Health, Education, Human Resources.
Take a holistic approach to dengue
Editorial
The advent of a new tetravalent vaccine against the dengue virus has thrown new light into the evidence-based management of dengue. An article recently published in the New England Journal of Medicine revealed that this vaccine confers about 80% protection to children vaccinated between 4 and 16 years of age without any major side effects.
However, apart from promoting the use of the vaccine, gaining control over dengue will also require a holistic approach which has to include:
vector control
proper case management.
Dengue is a tropical disease that happens in places with hot weather and intermittent rainfalls (areas near the Equator).
Aedes aegypti is the vector transmitting the dengue virus and Aedes albopictus, is a minor contributor. Their eggs can remain dormant for more than a year and will hatch once they come in contact with water.
Factors leading to the multiplication of such mosquitoes are:
Urbanisation.
Poor town planning
Improper sanitation
Preventive measures:
Keep surrounding areas clean as these mosquitoes cannot fly beyond 100 metres.
Keep windows shut during day hours as these mosquitoes bite during daytime.
Preventing water stagnation.
Using chemical larvicides and adulticides.
Remove the deficiency of manpower in government departments to undertake active surveillance.
Improve coordination between the local bodies and health departments in the delivery of public health measures.
Using Geographical Information System (GIS) for mapping and analyzing data on dengue (as used in Singapore).
GS-2
Topic: Issues relating to the development and management of Social Sector/Services relating to Health, Education, Human Resources.
A Health emergency
Editorial
Based on the risk of international spread of poliovirus, the World Health Organization announced on January 7 that polio will continue to remain a Public Health Emergency of International Concern (PHEIC) for three months.
The decision was taken based on the recommendation of the emergency committee that assessed the situation last month and arrived at the unanimous decision based on the "rising risk" of the international spread of wild poliovirus type1.
Polio was declared as PHEIC in 2014 and has continued to remain one since then. There were 156 cases of wild polio type1 cases in 2019 compared with 28 in 2018. There has been a fourfold increase.
With 128 cases, Pakistan accounted for the greatest number of cases, while Afghanistan reported 28 cases.
There were instances of the wild type1 virus getting exported from Pakistan to Iran and Afghanistan, as also on the spread from Afghanistan to Pakistan.
Wild poliovirus type1 was found in the environment in Pakistan and, to a lesser extent, in Afghanistan.
This is particularly a concern as the number of children not vaccinated in Afghanistan has been increasing. In 2018, a total of 8,60,000 children in Afghanistan did not receive polio vaccine due to security threats. The situation remained same in 2019 and, as a result, a large number of children in the southern region of the country remain unprotected. So, there is a major risk of an outbreak in other regions too.
An equally disturbing development is on the outbreak of vaccine-derived poliovirus cases in 16 countries; in all, there were 249 vaccine-derived poliovirus cases in 2019. Surprisingly, of them, only 30 were in countries where vaccine-derived poliovirus is endemic.
While Nigeria reported 18 cases of vaccine-derived poliovirus, not a single case of wild poliovirus type1 has been reported from the country since August 2016 (from over three years).
A country is said to have eradicated polio when no new case of wild poliovirus is reported for three successive years. Nigeria is all set to be declared as having eradicated polio this year, and in turn, the entire African region will become free of wild poliovirus.
GS-3
Topic: Challenges to internal security through communication networks, the role of media and social networking sites in internal security challenges, basics of cybersecurity; money-laundering and its prevention.
New facility to tackle cyber crimes
What is the news?
Union Home Minister Amit Shah inaugurated the Indian Cyber Crime Coordination Centre (I4C) on 10 January.
The I4C is a seven-pronged system, which includes:
A cybercrime reporting portal
Analysis of threats
Capacity building
Research and innovation
Creating an ecosystem for cybercrime management
Joint cybercrime investigation platform for law enforcement agencies.
The project was approved in October 2018 at an estimated cost of Rs. 415.86 crore.
On August 30 last year, the MHA had unveiled its National Cyber Crime Reporting Portal.
Citizens can report any kind of cyber-crime irrespective of the place where it has occurred through the website.
So far, more than 700 police districts and more than 3,900 police stations have been connected through this portal.