Read Daily Current Affairs of 24th February 2020 for UPSC Civil Services (IAS) Prelims and Mains Exam 2020.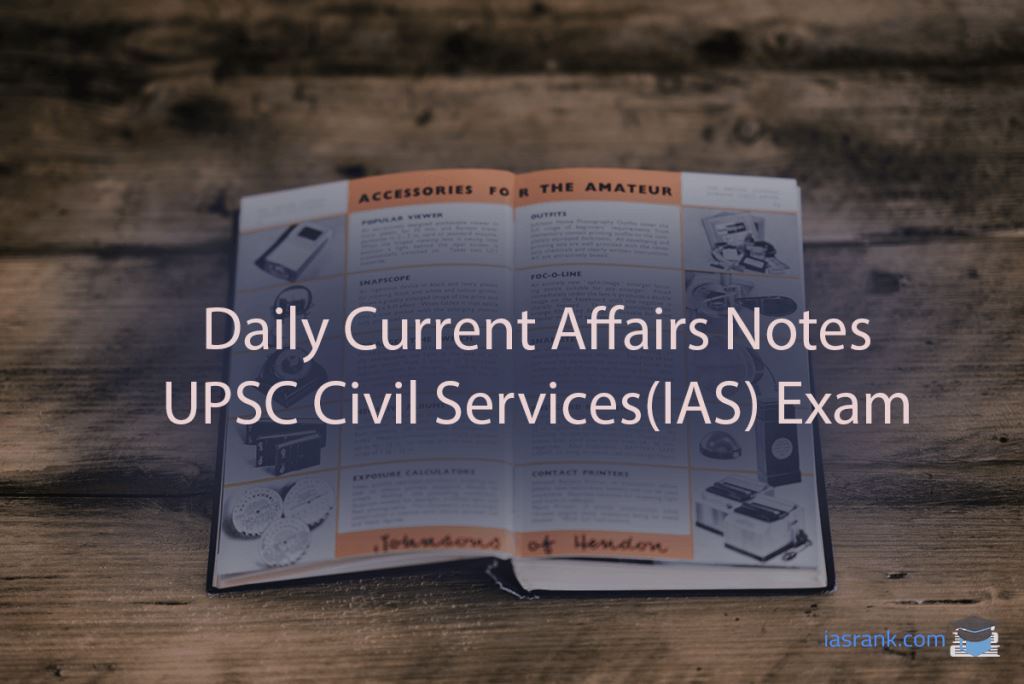 Read Current Affairs Notes of 24th February 2020 for UPSC Civil Services Prelims and Mains Examination 2020. Highlighting all National and International contemporary issues important from the exam point of view.
GS-3, Prelims
Topic: Conservation, environmental pollution and degradation, environmental impact assessment.
Adequate water in Kawal Tiger Reserve
The man-animal conflict in Kawal Tiger Reserve (KTR) over water seems to be a thing of the past.
There was no incident of wild animals straying into human habitations for water last year and situation will remain same this year too as there is enough water for them to get through the harsh summer in the Reserve.
The Reserve cover areas of Telangana.
Because of the prolonged monsoon and efforts of the Reserve management, water will be available for a comparatively longer period.
Several artificial water bodies have been created at strategic locations. Among them are the saucer pits which are 5m in diameter→made for large herds of bison.
Bison are large animals and move in herds of 15-18, thus, require enormous quantum of water.
GS-2, Prelims
Topic: Government policies and interventions for development in various sectors and issues arising out of their design and implementation.
One in three payments for maternity benefit scheme credited to wrong account
According to a progress report on Poshan Abhiyan (Nutrition Mission) released by NITI Aayog → one in three Aadhar based payments for the Centre's maternity benefit scheme, Pradhan Mantri Matru Vandana Yojana (PMMVY)- was credited to a wrong bank account.
Sometimes these wrong transfers go into bank accounts which are untraceable by beneficiaries and field functionaries→ this is the prime cause for dissatisfaction among beneficiaries which needs to addressed urgently.
A telephone survey of 5,525 beneficiaries, conducted by Ministry of Women and Child Development, revealed that only 60% were aware of the receipt of benefits.
Under the PMMVY, pregnant women and lactating mothers receive Rs 5,000 for their first child in three instalments.
The money is meant to:

Compensate women for the loss of wages

Ensuring healthy nutritional development of the newborn

The NITI Aayog:

Called for simplification in the documentation and operational rules to avoid delays

Proposed to "rationalize" the mandatory period of 180 days before the second instalment and the compulsory birth certificate for the release of third instalment.

Called for training of auxiliary midwives who fill up mother-child protection card and data entry operators.

This report on implementation of Poshan Abhiyan also scored States and Union territories to measure their readiness to execute programme across four themes:

Governance and institutional mechanism

Service delivery and capacities

Programme activities and intervention coverage

States were divided into large and small categories for better comparison.
Among 19 large States, Andhra Pradesh, Chhattisgarh and Madhya Pradesh were top three and Karnataka, Assam and Kerala were at the bottom.
Among 8 small States, Mizoram and Sikkim were at top and Manipur and Goa were at the bottom.
Dadra and Nagar Haveli, Chandigarh and Daman and Diu were top performers among Union Territories, whereas Delhi and Lakshadweep were at bottom.
GS-2, Prelims
Topic: Bilateral, regional and global groupings and agreements involving India and/or affecting India's interests.
Regional integration pegged to SAARC revival
Sri Lanka's former Prime Minister Ranil Wickremesinghe said, at a thought conclave organised by The Hindu, that successful regional integration, both economic and security, depends on the South Asian Association for Regional Cooperation (SAARC) becoming fully functional at the highest levels.
He added that the postponement of the Kathmandu SAARC Summit in 2017 due to heightened tensions between India and Pakistan had brought the regional grouping "to a standstill".
He urged both the countries to iron out their differences otherwise outsiders will be "coming and telling [you] to sort it out…not us in South Asia"
BIMSTEC is not a substitute for SAARC but it is a starting point for integration.
He proposed an 'Economic Integration Road Map (EIRM)', and said that it was important to conceptualise a "sub-region", consisting of five southern States of India, and Sri Lanka so as to tap the total population of 300 million people and a combined GDP of over $500 billion.
He said that for such a roadmap, followings things are crucial:

Para-tariffs and non-tariff barriers for successful regional integration

Enhancing tourism→ Bay of Bengal is the largest bay in the world, have famous cities and scenic beaches, including the Andaman Islands and Phuket. Cruise tourism is a new commercial opening for the region.
GS-3, Prelims
Topic: General issues on Environmental ecology, Bio-diversity and Climate Change – that do not require subject specialization.
New Highway threatens tiger territory in Arunachal Pradesh
In 2013 a two-lane, 156 km road's work was started. The road passes through the Namdapha National Park which is also India's easternmost tiger reserve.
Now a new highway project has been cleared through another tiger reserve in Arunachal Pradesh → Pakke Tiger Reserve.
A green activist Tana Jorjo Tara filed an RTI enquiry which revealed that the government in State plans to build a 692.7 km highway through the 862 sq. km Pakke Tiger Reserve.
The highway, named as East-West Industrial Corridor, aims to connect Bhairabhunda in West Kameng district to Changlang district along Arunachal Pradesh's border with Assam.
The project makes no mention of compensation for people likely to be displaced.
A 40 km elevated stretch through the heart of the Tiger Reserve has alarmed the environmentalists the most.
The activists are of the view that elevation is no guarantee against felling of trees and disturbing Wildlife. The corridor is also a threat to adjoining Nameri Tiger Reserve.
GS-3, Prelims
Topic: General issues on Environmental ecology, Bio-diversity and Climate Change – that do not require subject specialization.
The only way to get rid of plastic is to ban it
Documentary filmmaker, environment and global sustainability ambassador for BNP Paribas, Mr. Craig Leeson said that the scourge of plastic is everywhere and needs to be rooted out.
He had made a film on plastic in the oceans.
He said that plastic is the most durable substance human has ever made, it doesn't biodegrade ever. It has also entered our food chain possibly with all its chemicals.
Everything made up of plastic ends up being thrown in the ocean or piles up on land → only way to get rid of it is to ban it.
When asked that whether a ban will work, especially when it has financial repercussions → he answered by saying that Rwanda was the first country to ban plastic bags with strict punishments for its use, several states in the United States have also banned it.
Maharashtra too has banned single-use plastic.
He said that only legislation is not enough, effective implementation is required.
Further he added that banning plastic, especially in a developing country like India, will hamper economic activity and will also lead to jobs being lost but, new economy towards sustainable growth will possibly give ample of opportunities.
Speaking about today's youth and their role towards achieving environmental goals he said that "This generation is smart, educated and informed. The future lies with them."