Read Daily Current Affairs of 31st January 2020 for UPSC Civil Services (IAS) Prelims and Mains Exam 2020.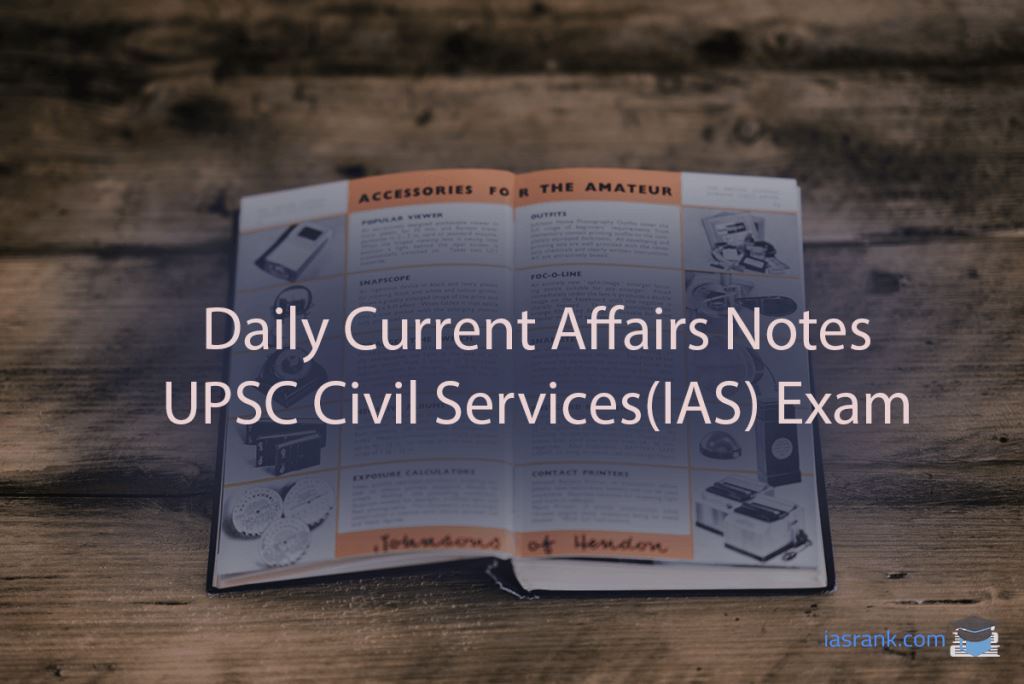 Read Current Affairs Notes of 31st January 2020 for UPSC Civil Services Prelims and Mains Examination 2020. Highlighting all National and International contemporary issues important from the exam point of view.
GS-3, Prelims
Topic: Conservation, environmental pollution and degradation, environmental impact assessment.
NGT tells boards of all States to file a report on pollution by dairy farms
The National Green Tribunal (NGT) has given directions to all States to file a report regarding pollution caused by dairy farms and necessary safeguards in that matter.
The report is to be submitted to the Central Pollution Control Board (CPCB).
Dairy activities are categorized as "orange" category.
The NGT has said that the guidelines prepared by the CPCB need to be revised. There should be the following revisions:

State boards or committees must enforce a 'consent mechanism'

There should be an appropriate policy for determining the carrying capacity of the area for commercial dairy activities.

The commercial dairy activities have the potential of causing air and water pollution.
GS-2, Prelims
Topic: Structure, organization and functioning of the Executive and the Judiciary—Ministries and Departments of the Government; pressure groups and formal/informal associations and their role in the Polity.
The Delhi High Court has observed that the use of chemicals like Calcium carbide to ripen fruits amounts to the poisoning of the consumers. The culprits should be punished, such punishment will have a deterrent effect.
Several countries have banned the import of Indian vegetables and fruits and many more were under scrutiny.
The High Court has said that the use of such chemicals in fruits and vegetables should be monitored. 
It also asked the Food Safety and Standards Authority of India (FSSAI) that whether calcium carbide is still being used to ripen fruits such as mangoes and have sought a response on the next hearing.
The Ministry of Agriculture was asked that is there any kit available for consumers which may help them check the presence of calcium carbide at home, the Ministry said in response that no such kit is available and presence of calcium carbide can be checked only in laboratories with the help of proper equipment and additional chemicals.
GS-3, Prelims
Topic: Indian Economy and issues relating to planning, mobilization, of resources, growth, development and employment.
Coronavirus hits Karimnagar granite factory
The Karimnagar district of Telangana has been impacted by the coronavirus outbreak in China.
Karimnagar district has around 70 granite quarries.
Because of the coronavirus outbreak, Chinese buyers have not visited the district from last fortnight.
The buyers who had arrived in the starting of the month have been called back to their country on instructions of not spreading the disease.
The local hotel industry in the district has also been hit by this.
On average, about 30,000 cubic metres of granite is exported to China every month from here and around 20-30 Chinese buyers visit the district to purchase the raw blocks.
With the ongoing conditions, the industry is set to lose at least Rs 50-100 crore per month.
Also, the Stone Fair at Xiamen in China which was to be organised in March has now been postponed to June, which will further impact the already struggling local industry.
GS-3, Prelims
Topic: Infrastructure: Energy, Ports, Roads, Airports, Railways etc./ Food processing and related industries in India- scope' and significance, location, upstream and downstream requirements, supply chain management.
A.P. fags of India's first 'fruit-train'
India's first 'fruit-train' was flagged off from Tadipatri Railway Station in Anantapur district, carrying a load of 980 metric tonnes of locally grown bananas, to the Jawaharlal Nehru Port in Mumbai.
From the port, in Mumbai, it will then be exported to Iran.
The train, first of its kind, will help save time and fuel as 150 trucks would have been required to send this much consignment.
Horticulture Commission said that there was a potential of sending about 10,000 MT. The government is targeting export of 30,000 MT of fruits from all over Andhra Pradesh.
Government has roped in six corporate companies to collaborate with local farmers to enhance productivity, quality of produce, post-harvest treatment and packaging.
The companies will also provide market linkage and will ensure higher prices which will lead to an increase in the income of local farmers.
GS-2, Prelims
Topic: Indian Constitution—historical underpinnings, evolution, features, amendments, significant provisions and basic structure.
SC to fix on Feb 3 timeline for women equality case
The SC will fix timelines on February 3, for issues, regarding the scope of judicial review when religious faith and women's equality are at odds.
The nine-judge bench would examine "larger issues" of law arising from practices such as the prohibition of women from entering mosques and temples, female genital mutilation among Dawoodi Bohras and the ban on Parsi women who married inter-faith from entering the fire temple.
The basis of enquiry would be the seven questions referred to this bench by a five-judge Bench on November 14.
The 7 questions under focus are:
What would be the interplay between freedom of religion under Articles 25 and 26 and the right to equality under Article 14?
Right to practice religion is subject to 'public order, morality and health' under Article 25(1). What do these terms actually mean?
Is constitutional morality the over-arching morality in reference to the Preamble or limited to religious beliefs or faith?
Should and, if so, how far can a court enquire into whether a religious practice is essential to a particular faith?
What is the meaning of the expression 'sections of Hindus' appearing in Article 25(2)(b) of the Constitution?
Whether "essential religious practices" deserve constitutional protection under Article 26?
What is the extent to which courts should entertain PILs questioning religious practices filed by a third person who is not a member of that faith?
GS-3, Prelims
Topic: Infrastructure: Energy, Ports, Roads, Airports, Railways etc.
Guwahati gets more efficient airport system
Guwahati became the eighth Indian airport to implement an Airport Collaborative Decision Making (ACDM) system.
This system improves the performance of airport operations and ensures a smooth arrival and departure sequence for airlines.