Read Current Affairs Notes of 6th January 2020 for UPSC Civil Services Prelims and Mains Examination 2020. Highlighting all National and Internation contemporary issues important from exam point of view.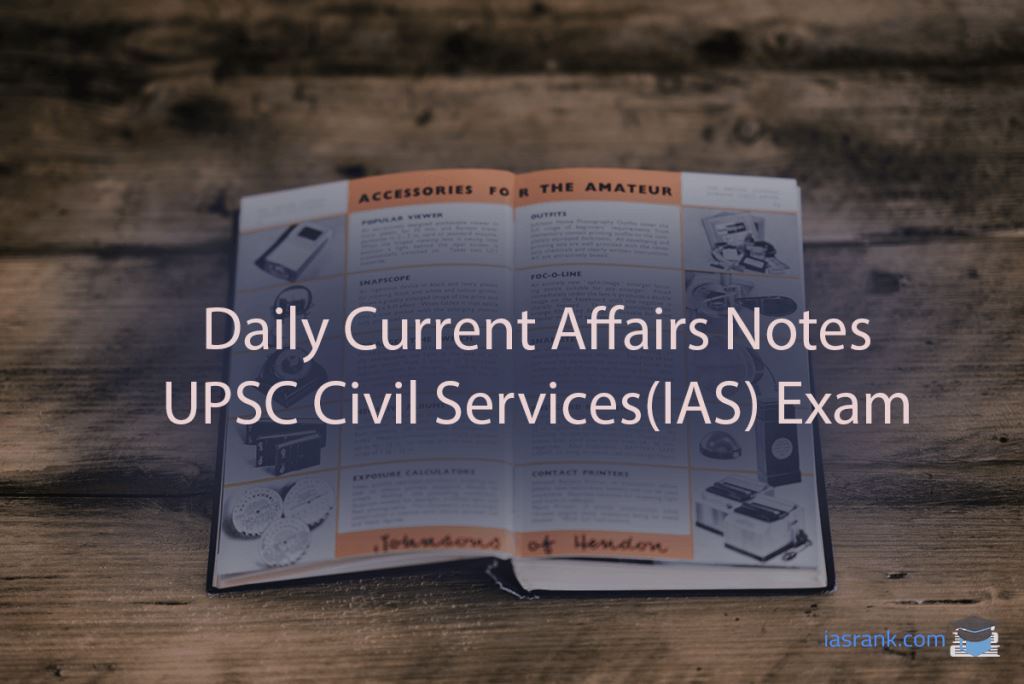 GS-1: Indian Heritage and culture, history and geography of the world and society
Tussle over Belagavi
Topic: Post-independence consolidation and reorganization within the country
The border dispute between Maharashtra and Karnataka
Belagavi (earlier Belgaum) is the epicenter of the issue from the last six decades
In 1957 when the States Reorganisation Act, 156 was being implemented, Maharashtra demanded the readjustment of its border with Karnataka because of Marathi-speaking areas being added to Karnataka.
It claimed an area covering 814 villages and 3 urban settlements (Belagavi, Karwar, and Nippani), which were, before independence, a part of the Mumbai presidency.
In 1960, a four-member (2 from each state) committee was set up to resolve the issue in which Maharashtra agreed to transfer 260 Tamil-speaking villages to Karnataka in return for 814 villages and 3 urban settlements. Karnataka didn't agree.
Between the 1960s and 1980s, the chief ministers of both states have met several times to resolve the issue but came up with no solution.
Efforts by union government- in 1966, it set up a one-man commission under chief justice of the Supreme Court of India, Meher Chand Mahajan, to look into the border dispute of Karnataka (then known as the Mysore state) and Maharashtra. The commission also got the responsibility of looking into Karnataka's demand for integrating Kannada-speaking areas in Kasaragod in Kerala.
Commission report came in 1967 and was presented in parliament in 1972. It rejected Maharashtra's claim over Belagavi city while recommending the transfer of 260 villages to Maharashtra and about 250 villages from Maharashtra to Karnataka.
Karnataka accepted the report but not by Maharashtra.
In 2004, Maharashtra approached the Supreme Court for a settlement under article 132(b) of the constitution. Karnataka has questioned it. One judge has recused so a new bench is to be set up.
Withdraw Savarkar booklet NCP
Topic: Modern Indian history from about the middle of the 18 century until the present significant events, personalities, issues.
Vinayak Damodar Savarkar also is known as Veer Savarkar was an Indian nationalist and president of Hindu Mahasabha.
He was involved in the swadeshi movement. He later joined tilak's swaraj party.
He called the revolt of 1857 as the first Indian war of independence. It is the title of his book too.
GS-2: governance, constitution, polity, Social justice, and international relations
The double burden of malnutrition: the need for urgent policy intervention
Topic: Issues relating to the development and management of social sector/services related to health, education, human resources and Issues relating to poverty and hunger
India's 'father of nutrition' is Dr. C. Gopalan.
Challenges regarding nutrition in India:

A work led by ICMR published in Lancet Global Health shows that progress in maternal and child undernutrition varies largely among states

Malnutrition contributes the most to child deaths as well as disability in adults.

According to the Comprehensive National Nutrition Survey, 10% of children under 19 years have pre-diabetes.

Recent work by IFPRI and Emory university highlighted how economic progress is a double-edged sword- on one hand, it reduces underweight among women and on the other hand it leads to overweight among others.

Studies published by various researchers have shown that early-life undernutrition leads to later-life adult diseases, along with food environments, physical activity, and preventive healthcare.

Solutions for some of these challenges:

India should be focusing on nutrition for saving the lives of children under five.

Public policy interventions are required across multiple ministries.

Incentivizing the cultivation and consumption of a range of food commodities.

The government should focus on buying better nutrition and not just focusing on providing more calories (as is the case of PDS, ICDS and school meals)

Ensuring optimal healthcare of adolescents, pregnant women, and young children.

Restricting the marketing of unhealthy foods and drinks.

Expanding efforts to improve nutrition literacy.

Various policies and programs:

For child undernutrition- POSHAN Abhiyan

For healthy eating- Eat Right India
171 hospitals de-listed from PM's Health scheme after fraud
Topic: Government policies and interventions for development in various sectors and issues arising out of their design and implementation
Pradhan Mantri Jan Aarogya Yojana (PM-JAY) is the Centre's ambitious insurance scheme under the National Health Authority (NHA).
Over 19000 hospitals across 9 states are empaneled to the scheme, of which 390 have been either served show-cause notices, suspended or de-empaneled (171) for alleged fraud.
It has been found that private hospitals were performing procedures reserved for government hospitals only.
Gujarat, Chhattisgarh, Madhya Pradesh, and Punjab are the states where frauds have been detected.
It provides a health insurance cover of 5 lakh rupees per family.
GS-3: Technology, Economic Development, Biodiversity, Environment, Security and Disaster Management
How humans affect the genetic connectivity of four mammals
Topic: conservation, environmental pollution, and degradation, environmental impact assessment
A new study from National Centre for Biological Sciences (NCBS), Bengaluru has added anthropogenic activities along with existing reasons (like changing landscape, habitat loss, fragmentation, and global climate change) as a major reason for biodiversity decline worldwide.
The study says that anthropogenic activities can impact genetic connectivity (or the movement among habitat patches), usually resulting in mating and genetic exchange.
Isolation of habitat patches due to habitat destruction and fragmentation can restrict animal movement among habitat patches and thus reduce genetic exchange and increase the probability of extinction. Hence, maintaining connectivity is crucial to ensure the long-term survival of species.
In the study, which was conducted on four mammals (jungle cats, leopards, sloth bears, and tigers), tigers are the most affected by human activities (like land use, human population density, nearby roads and traffic) and Jungle cats are the least impacted but they too experience road-kills.
Way forward:

presence of overpasses or underpasses in currently well-connected population areas.

Paying attention to the formation of wildlife corridors.

Last year, the government released a document laying out regulatory requirements for developing roads, railways, and powerlines while recognizing the impacts on wildlife and people. NHAI and all PWDs are instructed to follow the guidelines.
WHO pre-qualifies Serum's low-cost pneumococcal vaccine?
Topic: achievements of Indians in Science and technology, indigenization of technology, and development of new technology
A pneumococcal vaccine, PNEUMOSIL, has been developed by the Pune-based Serum Institute of India.
It had been pre-qualified by WHO in the third week of December 2019.
The new vaccine will cost $2 per dose, which is 30% cheaper than the existing Gavi vaccine.
Prelims
WHO pre-qualifies Serum's low-cost pneumococcal vaccine.
Miyawaki afforestation
The Miyawaki afforestation model was pioneered by Japanese botanist Akira Miyawaki to successfully convert land destroyed by human activity and natural calamities, along the Japanese coastline, into mini forests.
The Kerala government used this model, which has revolutionized the concept of urban afforestation by turning backyards into many forests.
The Kerala government now plans to extend this model to restore the land affected by floods, landslips and soil erosion under its Rebuild Kerala Initiative.
Chilika may host over 1 million birds

Chilika Lake is the largest winter ground for migratory birds.

It is the country's largest brackish water lagoon.

It is also Asia's largest and the world's second-largest lagoon.

It is located on the east coast of Odisha on river Daya.

It is home to a number of endangered species of plants and animals like Irrawaddy dolphins.

It was the first Indian wetland to be designated as an Indian wetland of international importance under the Ramsar convention in 1981.

Nalabana Island (Forest of reeds), part of this Lagoon, was declared a bird sanctuary in 1987.

Gurdwara Nankana Sahib

Also known as Gurudwara Janam Asthan.

The site where the Guru of Sikhs, Guru Nanak, was born.

Located in Lahore, Pakistan is considered a holy site for Sikhs.

In the news because of a mob attack.