Read Current Affairs Notes of 7th January 2020 for UPSC Civil Services Prelims and Mains Examination 2020. Highlighting all National and Internation contemporary issues important from exam point of view.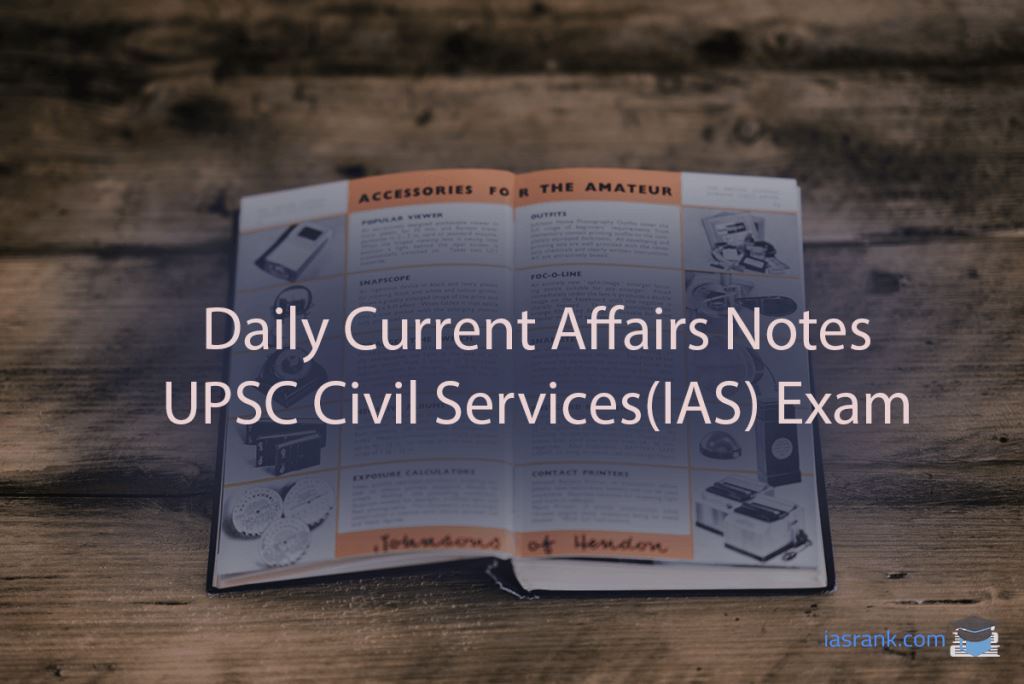 GS-1, Prelims
Topic: Indian culture will cover the salient aspects of Art Forms, literature and Architecture from ancient to modern times.
Marble dorms of Aurangabad Bibi Ka maqbara to get a new glow
Bibi Ka maqbara is a 17th century Mughal Era monument which is located in Aurangabad,
The monument is to undergo scientific conservation by the Archaeological Survey of India (ASI).
Archaeological Survey of India is an Indian government agency attached to the Ministry of Culture.
It is responsible for archaeological research and conservation or preservation of cultural monuments in the country.
Founded: 1871 by Alexander Cunningham
Headquarters: New Delhi.
GS-3, Prelims
Topic: Science and Technology- developments and their applications and effects in everyday life.
107th Indian Science Congress in Bengaluru from January 3
107th Indian Science Congress is to be held at the University of Agricultural Science, Bengaluru between 3-7 January 2020.
ICS is normally held in 1st week of January.
The theme of the Congress of this year is 'Science and Technology: Rural Development'.
It has been argued that Congress needs new ideas which are practical for society and not just a mix of myth and pseudoscience.
It now becomes a "Science Mela" for the country in which various new technology introduced towards aiming a successful India.
Indian Science Congress Association (ISCA) is a scientific organisation of India which was started in 1914 in Kolkata by JL Simonsen and PS MacMohan.
Its headquarters at Kolkata, West Bengal Congress meets annually in the first week of January.
Aim of ISC
This gathering of scientists aims "How Science and Technology can help in the formation of New Nation".
Human Space Flight Centre (HSFC) to be established in Karnataka
India's world-class faculty of astronauts gathered in Challakere, a shrubby, arid oilseeds town in Karnataka to form single-stop consolidating infrastructure and activities related to space travelers.
This faculty will be autonomous and will be looking at India's future projects Like Ganganyaan and other future missions in the space.
Prelims, GS2, GS3
National Renewable Energy Database.
Renewable Energy: is kind of energy that can be renewed like Solar Energy, wind energy, water energy
India's Current Status wrt Renewable Energy:
India's solar and wind capacity has now crossed 68 GW, compared to a modest 16 GW in 2010.
In the context of solar energy India globally ranks 3rd largest market after China and the US.
The ambition of GOI regarding Renewable Energy (RE).
India targets of 450 GW of installed RE capacity by 2030.
This requires the investment of a huge amount of money.
To put it into perspective, the Reserve Bank of India (RBI) estimated the accumulated exposure of the Indian scheduled commercial banking system to the power sector as a whole, to be around Rs 5.65 lakh crore.
Prelims based facts
Topic: Current events of National and International importance.
Challakare to be ISRO's astronaut training hub
Challakare is a town in Bengaluru on Bengaluru-Pune NH4 is situated in Chitradurga district in Karnataka.
A world-class facility for training astronauts is to come up at this place which is to be developed by ISRO.
It is to be completed in 3 years.
Faiz Ahmed Faiz
Faiz Ahmed Faiz was an Urdu poet.
He was nominated for Nobel prize in literature.
He wrote the poem 'Hum Dekhenge' which is in news currently.
NAL wants the government to push for Saras to take off
Saras Mk-2 who developed by National Aerospace Laboratories (NAL) is the first indigenous light transport aircraft.
It is 20-25% lower in cost than other aircraft in a similar category.
It is a 19-seater aircraft developed at the cost of ₹50 crores.
The NAL has been pitching Saras Mk-2 for government's UDAN (Udega Desh ka Aam Nagrik) since it has the capacity to operate in "ill-equipped", "semi-prepared" and "unpaved airstrips".
Topic: General Science.
Pune to host 5th edition of global Drosophila conference
The last 4 editions of the conference were hosted at Taipei, Seoul, Beijing, and Osaka.
What is Drosophila?

Drosophila is a fruit fly that is the most widely used and preferred model organism in biological research.